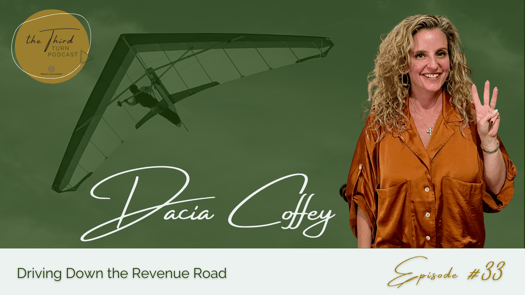 Or Listen on your Favorite Platform:
Driving Down the Revenue Road
Episode #33 of the Third Turn Podcast with Dacia Coffey.
Our guest, Dacia Coffey, is a passionate advocate for "making impact before the invoice" and letting no opportunities for deep connection and service go to waste.
And while that might sound like solid marketing advice, Dacia actually sees and speaks from a far more holistic business perspective--by virtue of her role as business advisor to B2B clients, her own experience as a CEO of Marketing Blender, and her yin-yang background in both finance/accounting and marketing.
So when it comes specifically to "the road to revenue", Dacia sees and speaks in a singular, integrated way--she doesn't bifurcate between purpose and practicality, finance and marketing, or current and future revenue. Her perspective is especially helpful and refreshing for Maestro-level leaders, whose view becomes ever more holistic and integrated in this leg of the leadership journey. (And by the way, there's an actual Road to Revenue download available from Dacia and her team.)
In terms of current and future revenue:
Dacia recommends that the goal is building a total business development system for creating sustainable and predictable revenue growth. A system and approach that is constantly listening to the market and translating what's being learned in marketing and sales and applying it to innovation, value creation, and a longer-term view.
'A Maestro-level leader can learn a lot from marketing when it's done really well…there's lots of iteration based on listening…if it's on the screen it's data-driven optimization, if it's off the screen it's really deeply listening to feedback, to what's happening in the trends, and then operationally adjusting and focusing your innovation--all with the goal of "What does the market really need?"'
And, she urges that this be done very intentionally and proactively. 'I hear a lot of leaders talk about the ability to react or respond to change and I say whoa, whoa; be careful with that because that means you're waiting for change to happen and then you're trusting your systems and processes that were based on what happened in the rearview mirror to help you be agile enough.'
In terms of injecting purpose into strategic practicality, Dacia reminds us that:
Business is the business of serving others.
All innovations, operational changes, and outreach should spring from the problems you solve and the transformations you create for others.
In fact, your individual impact and organizational impact are directly tied to your ability to create transformation in the lives of others.
So for Dacia, the road to revenue is paved with enduring purpose, sustainable revenue growth, deep listening, and intentionally iterating and innovating. And especially for the Maestro-level leader, with a clear destination in mind--an organization that continues growing and serving and helping transform the lives of those it serves, well into a future beyond our own.
Check out these additional resources:
Follow Dacia on LinkedIn--she has a podcast and book coming out this year titled Corporate Caffeine: Boosting B2B Growth through Sales & Marketing Alignment.
Road to Revenue Guide - Download a comprehensive guide on how to align, build, and champion your marketing for success.
Society for Process Consulting - Mark and I connected with Dacia in a process consulting course that Mark facilitates. If you'd like to deepen your approach to co-creating business solutions in a way that's centered on advancing client growth and learning through an authentic discovery process, check out upcoming courses here.


With each episode of the Third Turn Podcast we host a conversation among leaders who want the world to flourish for generations beyond their lifetimes.

Listening with others in some way and enjoying in-depth conversations of your own as you reflect and choose what you would do the same or differently is a plus!

We always welcome you sharing these podcasts with others as well as sending along any suggestions for making these podcasts better.

The Third Turn Podcast is part of the Maestro-level leaders initiative, a production of Design Group International. Strategically Connected's Jennifer Miller is the producer.

Discover more about The Third Turn Podcast: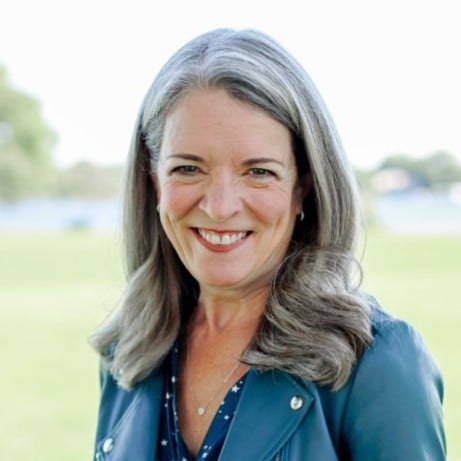 Kristin serves as a Consultant and Coach to leaders, teams, and boards by helping them leverage their unique brand of significance in context of: - Strategic junctures--Helping leaders and teams identify what can't change and what must; - Leadership & life challenges—Helping leaders support, sustain and strengthen their soul in leadership; - Career change & transition—Helping them think creatively and courageously about what's next. Kristin spent 20 years with Fallon Worldwide, leading brand and communications strategy development for clients across a variety of industries—including Nordstrom, Holiday Inn Express, and Children's Defense Fund. Her career journey since has included stints as marketing/strategy director and consultant to companies, nonprofits and ministries in the areas of strategy, culture, communications and board governance. Her teams' work won multiple national effectiveness awards, and her consulting work resulted in a "Best Practice in People/Workplace" by Upsize Magazine. Having completed NeuroLeadership Institute's Brain-Based Coaching Program, Kristin incorporates brain-based principles into change initiatives for organizations, teams, and individuals. She and her husband Jeff Rosell have four awesome adult sons and host an international daughter, originally from South Sudan.