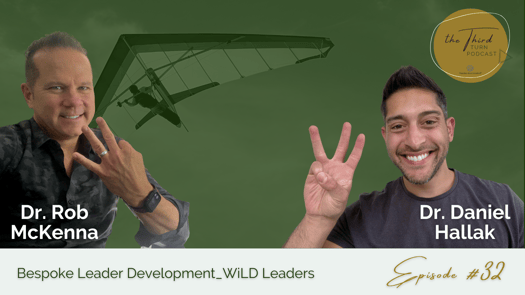 Or Listen on your Favorite Platform:
Bespoke Leader Development_WiLD Leaders
Episode #32 of the Third Turn Podcast with Dr. Rob McKenna & Dr. Daniel Hallak.
Leadership at the Third Turn brings many things into sharper focus. And one of those is leadership development--the development of our own leadership for a unique, new season, and that of those around us, for the future of the organizational mission.
And as we look more squarely at developing the next generation of organizational leaders-- with perhaps an even greater sense of urgency and importance--some approaches that seemed "just fine" start to fall short.
One-off, one-size-fits-all programs versus bespoke to leaders' unique talents, personal motivators, purpose, and calling;
Episodic workshop sessions versus leveraging real-life leadership experience as a teacher;
A "they've got it or they don't" attitude versus recognizing that a full 50-70% of leadership effectiveness is actually developed;
Focus on leadership tactics, types, and trends versus presenting thought-provoking questions that invite leaders into their own development and help them intentionally engage their growth opportunities;
Laser focus on key aspects of leadership versus developing the whole person;
1-on-1 leadership development versus integrating it into the organizational culture and tying it to the mission;
Developing "high potential" leaders (talent and competence) at the expense of developing leadership readiness and courageous, sacrificial leaders with the character to serve.
That's where WiLD Leaders and our guests Dr. Rob McKenna and Dr. Daniel Hallak come in. They advocate for and resource organizations with a whole and intentional leader development (WiLD) approach "that prepares leaders of competence and character to stay strong and resilient as they thoughtfully tackle the greatest opportunities and challenges in our organizations, and in our world."
Our podcast conversation is fun and thought-provoking. Their article 10 Scientific Truths of Whole + Intentional Leader Development backs up what they say and the programs they offer. And for organizational leaders who take this important "future value" strategy to heart, be sure to read their article, 10 Strategies for Building a Leadership Development Culture in Your Organization.
As we prepare our organizations for an uncertain future, one of the most sure-fire things we can do is to prepare the next generation of leaders in a way that goes far beyond cliché--to something that's a more generative, long-term proposition, and more whole and intentional.
Check out these additional resources:
WiLD Fridays - Drop in for this no-cost, live + virtual + interactive weekly WiLD Conversation that Rob and Daniel facilitate on a variety of relevant leadership development topics. https://www.wildleaders.org/wild-conversation
And WiLD Leaders has a companion organization: The WiLD Foundation is a 501C3 focused on providing world-class leader development resources to those who serve on the frontlines of the greatest needs in our world, but are oftentimes the least resourced or supported.


With each episode of the Third Turn Podcast we host a conversation among leaders who want the world to flourish for generations beyond their lifetimes.

Listening with others in some way and enjoying in-depth conversations of your own as you reflect and choose what you would do the same or differently is a plus!

We always welcome you sharing these podcasts with others as well as sending along any suggestions for making these podcasts better.

The Third Turn Podcast is part of the Maestro-level leaders initiative, a production of Design Group International. Strategically Connected's Jennifer Miller is the producer.

Discover more about The Third Turn Podcast: