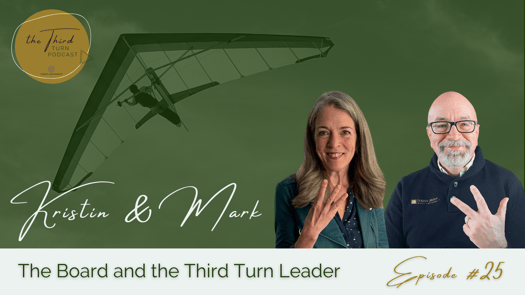 Or Listen on your Favorite Platform:
The Board and the Third Turn Leader
Episode #25 of the Third Turn Podcast.
The role of the board comes up squarely and consistently in conversations with Third Turn leaders. Readiness to develop future value and succession strategy at the organizational and leadership level does not necessarily translate to board readiness. And oftentimes the board finds itself in catch-up mode.
So in this episode, I (Kristin) pick Mark's brain about Third Turn governance implications for a board's legal duties, its core functions, and for boards ranging from corporate to nonprofit, to small business and founder-led entrepreneurial companies with family ownership dynamics.
What is the role of the board when future value and succession strategy are in play? Some key themes we discuss here:
Board governance is at its very essence a Third Turn leadership role. Board members are no longer operating in Turn Two leading-and-doing mode, but now shift into a role primarily about oversight and stewardship. This is a critical shift, and many executive-leaders-turned-board-members struggle to navigate this. Being an effective board member requires that we learn, grow, and develop new Third Turn leadership capacities, if we haven't already.
A board's legal responsibilities and core functions center on ensuring current and future value. Mission and business continuity, strategic direction, future value, leadership development, and succession strategy are foundational to a board's three primary legal duties:
The duty of loyalty

- Ensuring advancement of mission and making decisions in the best interests of the organization;

The duty of obedience

- Ensuring obedience to bylaws, laws, regulations, and stated mission;

The duty of care

- Making decisions as corporate fiduciaries as any reasonable prudent person would;
…and three core board functions:
Governance

Strategic direction

Accountability
But when CEOs or executive leaders navigate a Third Turn and begin facing into future value and succession, many find their boards aren't ready. In fact, many boards aren't yet sophisticated enough and resort to tactical, short-term thinking, rather than step up to the rigors and robust conversations necessary for ensuring longer-term vitality and a relevant succession strategy.
A continuous development mindset--at both management and board levels--is foundational to future value and vitality. As Hubert Joly, former CEO of Best Buy, advocated, succession planning should actually just be called development planning. Board development, talent development, leadership development, and development of strategic direction and future value. In fact, continuous development should ideally pervade the organization's cultural ecosystem. And the time and attention to deepen and broaden this within both the organizational and board cultures is often its own critical step on the road to future value.
Some helpful articles for digging deeper:
Books and resources:
And FYI--In this episode we announce our new Maestro-level leaders offering through Christian Leadership Alliance! CLA's nonprofit members can join a cohort for an exclusive price, inclusive of all their CLA member benefits. And we'll soon begin regular blog posts within their Higher Thinking Blog.

A new Maestro-level leaders cohort for CLA members will kick off as soon as we have a half dozen people ready to be intentional about their Third Turn in executive leadership. Find out more and kick off an exploratory conversation at https://christianleadershipalliance.org/community/maestro-level-leadership/.


- Kristin
With each episode of the Third Turn Podcast we host a conversation among leaders who want the world to flourish for generations beyond their lifetimes.

Listening with others in some way and enjoying in-depth conversations of your own as you reflect and choose what you would do the same or differently is a plus!

We always welcome you sharing these podcasts with others as well as sending along any suggestions for making these podcasts better.

The Third Turn Podcast is part of the Maestro-level leaders initiative, a production of Design Group International. Strategically Connected's Jennifer Miller is the producer.

Discover more about The Third Turn Podcast: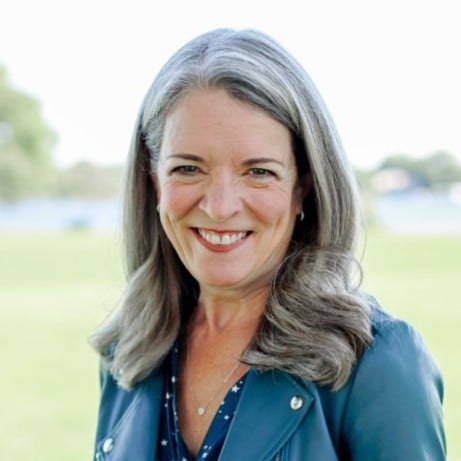 Kristin serves as a Consultant and Coach to leaders, teams, and boards by helping them leverage their unique brand of significance in context of: - Strategic junctures--Helping leaders and teams identify what can't change and what must; - Leadership & life challenges—Helping leaders support, sustain and strengthen their soul in leadership; - Career change & transition—Helping them think creatively and courageously about what's next. Kristin spent 20 years with Fallon Worldwide, leading brand and communications strategy development for clients across a variety of industries—including Nordstrom, Holiday Inn Express, and Children's Defense Fund. Her career journey since has included stints as marketing/strategy director and consultant to companies, nonprofits and ministries in the areas of strategy, culture, communications and board governance. Her teams' work won multiple national effectiveness awards, and her consulting work resulted in a "Best Practice in People/Workplace" by Upsize Magazine. Having completed NeuroLeadership Institute's Brain-Based Coaching Program, Kristin incorporates brain-based principles into change initiatives for organizations, teams, and individuals. She and her husband Jeff Rosell have four awesome adult sons and host an international daughter, originally from South Sudan.