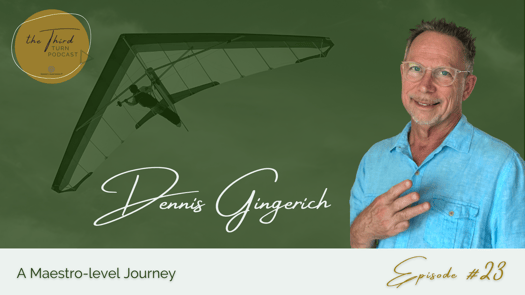 Or Listen on your Favorite Platform:
A Maestro-level Journey
Episode #23 of the Third Turn Podcast with Dennis Gingerich.
Dennis Gingerich is a unique kind of leader with a rich viewpoint when it comes to Third Turn living and leading.
After an intentional 5-year prep and planning process, Dennis transitioned in title and responsibilities from Senior Pastor to Founding Pastor of Cape Christian Fellowship, the church he'd planted 20+ years earlier.
Dennis has stayed on the bus (in Jim Collins' language) for the roughly 12 years since, and served alongside three successive successors.
The mission and ministry of Cape Christian has continued to thrive and flourish in that time, expanding to include a pre-school, a park, a counseling center, multiples of new worshippers.
And that's just the organization Dennis founded. Well into his own purpose-filled Third Turn--as nature photographer, police chaplain, and blogger in addition to his pastoral responsibilities in South Florida--Dennis has seen the repercussions of "retirement" that lacks purpose.
So in this episode, Dennis shares wisdom, insights, and practical principles gleaned from a robust maestro-level journey. Here are just a few nuggets and gems:
'Dreaming of the organization going farther than I could take it. Keeping that end in mind.'
Developing new definitions of success beyond the classic metrics (attendance, financial giving, etc.)--measures that more accurately track what thriving beyond one's own leadership actually looks like.
Committing to being one's successors' biggest cheerleader.
Intentionally navigating both the inward and the outward transition journey as a leader.
Recognizing there's no one right way to do succession, but there are clear and common principles--humility, intentionality, communication (lots of it!), and giving transition its own good time.


Dennis admits that his view of retirement is quite countercultural, especially in South Florida. His perspective? 'It's ok to change the pace of your life, but it's not ok to live without purpose for your life.' He's watched the toll that counting down, coasting, and putting life into neutral ultimately takes on people; and advocates for embracing a sense of purpose at every age and stage of life.
And the core message he'd like to leave us with? 'I'm more convinced than ever that forward-thinking leaders plan for both their own future and the future of the business or organization they lead.'
We couldn't agree more, Dennis. Because that's the principle upon which the Third Turn Podcast and Maestro-level leaders cohort experience is based, and the purpose they're designed to serve.

As Mark said, we hope leaders will listen to this rich episode (maybe a couple times!), take notes, and pass Dennis' maestro-level lessons on to others. His is a rich, full, tenured, and continuing maestro-level journey with time-tested wisdom to share.

Resources that Dennis found helpful in crafting his own Third Turn:
A helpful book he recommends, that also profiles Cape Christian Church's story, alongside others:
The book Dennis is currently reading:
And sources for ongoing leadership wisdom and insights from Dennis:


- Kristin
With each episode of the Third Turn Podcast we host a conversation among leaders who want the world to flourish for generations beyond their lifetimes.

Listening with others in some way and enjoying in-depth conversations of your own as you reflect and choose what you would do the same or differently is a plus!

We always welcome you sharing these podcasts with others as well as sending along any suggestions for making these podcasts better.

The Third Turn Podcast is part of the Maestro-level leaders initiative, a production of Design Group International. Strategically Connected's Jennifer Miller is the producer.

Discover more about The Third Turn Podcast: