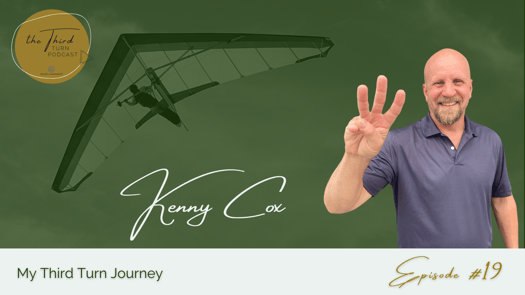 Or Listen on your Favorite Platform:
My Third Turn Journey
Episode #19 of the Third Turn Podcast with guest Kenny Cox.
Our greatest leadership and life crucibles are often the birthplace of our greatest giftedness and contributions, and Kenneth Cox's story brings this to life in a powerful way. In fact, Kenny's leadership journey brings lots of Third Turn principles to life:
leveraging lessons learned in Turns 1-2 into a passionate Third Turn focus;
laying groundwork for a very creative "future value" vision for his company;
living his life focused now on legacy and future impact;
and even having a brand new grandbaby that underscores his "future generations" focus. (Kenny even considers his new grandfather role as his 'Third Turn in parenting leadership'!)
Kenny's journey also underscores "Courage and Calling" principles we discussed in Episode #18:
Starting on the ground floor of his father's business--literally living there on a cot!--and envisioning a new model and better way of doing business;
Finding his leadership voice in a leadership vacuum and amid significant family and market push-back, but ultimately, helping the company grow 10fold and multiples since;
Recognizing his own need for deeper transformation from an independent to a more interdependent leader, in response to challenges and family crises.
As Kenny puts it: 'The gold in leadership is found through your evolving and transforming self.' As a transforming leader his life mission is now passing this gift along to others--incarnating and encouraging awareness, meaning, purpose, and legacy; hopefully with transformational impact.
Here are some resources and recommendations Kenny has for leaders with the courage to attend to their own transformation:
And the song "Generations" by Sara Groves is a poignant end note here, a song Kenny mentioned as we closed and which includes this powerful, punctuating line:
'…Remind me of this with every decision, generations will reap what I sow,
I can pass on a curse or a blessing to those I will never know.'


- Kristin
With each episode of the Third Turn Podcast we host a conversation among leaders who want the world to flourish for generations beyond their lifetimes.

Listening with others in some way and enjoying in-depth conversations of your own as you reflect and choose what you would do the same or differently is a plus!

We always welcome you sharing these podcasts with others as well as sending along any suggestions for making these podcasts better.

The Third Turn Podcast is part of the Maestro-level leaders initiative, a production of Design Group International. Strategically Connected's Jennifer Miller is the producer.

Discover more about The Third Turn Podcast: