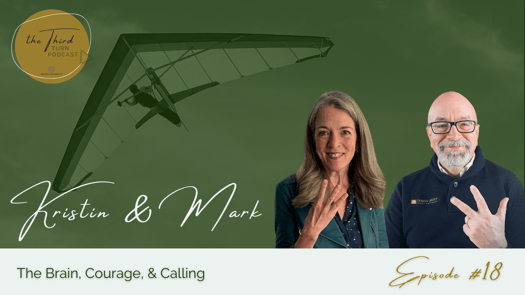 Or Listen on your Favorite Platform:
The Brain, Courage, & Calling
Episode #18 of the Third Turn Podcast
Let's be honest: Third Turn Leadership is not for the faint of heart. As we imagine and work toward a meaningful next chapter and transition--for the organization, for our successors, and for ourselves, and future generations--ambiguity reigns supreme. My colleague, Mark L. Vincent, refers to it as peering into the mist, while I often describe the ambiguity as "hell in the hallway" between one door closing and another yet to open. Whichever metaphor, they speak to ambiguity, liminality, and an unfolding future; and where there's ambiguity, courage is required.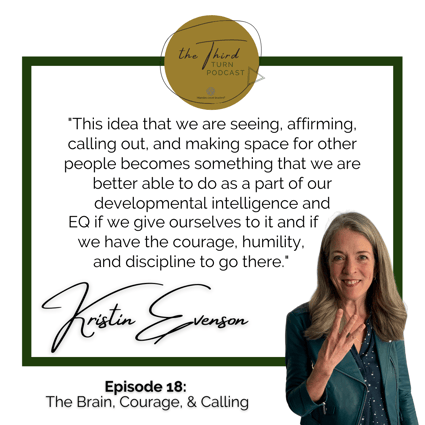 As evidenced in both our coaching and cohort conversations with leaders, the battle is real. "Do I have another push in me to finish well?" "I honestly feel weary and overwhelmed by it…" Which probably helps explain why so few companies actually have begun the transition planning they recognize as critical.
So in this episode, Mark and I hit the hard stuff head-on--with reasons and concepts that explain why Third Turn work can feel hard, and with encouragement that a new set of skills and competencies arise right on time. Here are some concepts we discuss, with links for going deeper.
"Your Professional Decline Is Coming (Much) Sooner Than You Think" - This article from The Atlantic describes in research-based detail the shifts in intelligence over the arc of our careers--natural declines and helpful increases. And why those who rest on their laurels often have a tougher time letting go.
Fluid vs. Crystallized Intelligence - Fluid intelligence--the ability to reason, analyze, and solve novel problems, which innovators and disruptors demonstrate in abundance--peaks relatively early in adulthood and diminishes starting in one's 30s and 40s. However, crystallized intelligence--the ability to use collective knowledge--increases through one's 40s and has been shown to peak around age 60 or 70. Perhaps declines in fluid intelligence are making the new and novel needs of Third Turn leadership feel taxing and tiring for some of us.
Conscious incompetence - Our guest Tami Heim raised this concept in Episode 17 and we revisit it here. If we're committed to growing and developing as leaders, we need to press into areas of conscious incompetence repeatedly throughout our career. It's the uncomfortable place where we're keenly aware of what we don't know, and realize that it will take energy and intention to, in this case, peer into the mist as well as continue living with mental vitality and acuity. Click the link to read more and access two helpful frameworks for mapping new learning and reducing the tension in growth and change.
And now some timely Third Turn good news:
Gerotranscendence - As we age we have the potential to move away from a more materialistic and rational perspective common in the first half of life toward greater self-awareness, a decrease in self-centeredness, and becoming rooted in something beyond past achievements. The Maestro-level Leader is uniquely equipped for considering a transcendent legacy beyond themselves for the benefit of others (Jay Bennett shared his perspective on a transcendent legacy in Episode 16).
Integrative Wisdom & Developmental IQ - Dr. Gene D. Cohen, psychologist, gerontologist, and founder of the National Institute on Aging, found that as we age, our left and right hemispheres can become more integrated, facilitating more advanced thinking not possible in younger brains. His book, "The Mature Mind: The Positive Power of the Aging Brain" sets forth a psychology of a new kind of growth and wisdom only available as we age.
All this points squarely at the fact that Third Turn work is hard but good work! As says Gordon T. Smith in his book, "Courage and Calling", 'The greatest threat to the fulfillment of our calling isn't external but internal…we are held back, dragged down, anxious and worried about many things. Will we have courage to do what we feel called to do?' If we have the courage and humility to step up to Third Turn challenges and opportunities, we would do well to support ourselves in this important-but-murky endeavor with resources and comrades that can strengthen and sustain us in the journey.
Take a listen to learn more. And if you'd like to explore how a Maestro-level Leader Cohort might support you in this important and stretching work, absolutely, let's chat.


- Kristin
With each episode of the Third Turn Podcast we host a conversation among leaders who want the world to flourish for generations beyond their lifetimes.

Listening with others in some way and enjoying in-depth conversations of your own as you reflect and choose what you would do the same or differently is a plus!

We always welcome you sharing these podcasts with others as well as sending along any suggestions for making these podcasts better.

The Third Turn Podcast is part of the Maestro-level leaders initiative, a production of Design Group International. Strategically Connected's Jennifer Miller is the producer.

Discover more about The Third Turn Podcast: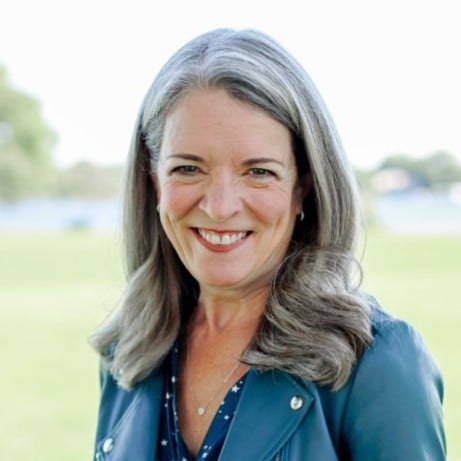 Kristin serves as a Consultant and Coach to leaders, teams, and boards by helping them leverage their unique brand of significance in context of: - Strategic junctures--Helping leaders and teams identify what can't change and what must; - Leadership & life challenges—Helping leaders support, sustain and strengthen their soul in leadership; - Career change & transition—Helping them think creatively and courageously about what's next. Kristin spent 20 years with Fallon Worldwide, leading brand and communications strategy development for clients across a variety of industries—including Nordstrom, Holiday Inn Express, and Children's Defense Fund. Her career journey since has included stints as marketing/strategy director and consultant to companies, nonprofits and ministries in the areas of strategy, culture, communications and board governance. Her teams' work won multiple national effectiveness awards, and her consulting work resulted in a "Best Practice in People/Workplace" by Upsize Magazine. Having completed NeuroLeadership Institute's Brain-Based Coaching Program, Kristin incorporates brain-based principles into change initiatives for organizations, teams, and individuals. She and her husband Jeff Rosell have four awesome adult sons and host an international daughter, originally from South Sudan.