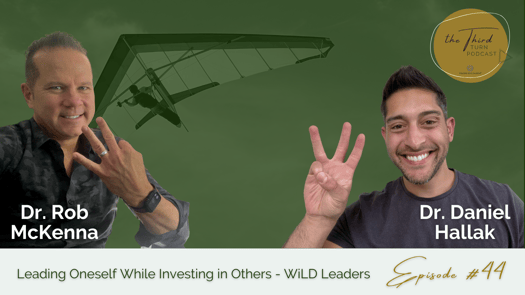 Or Listen on your Favorite Platform:
Leading Oneself While Investing in Others - WiLD Leaders
Episode #44 of the Third Turn Podcast with Dr. Rob McKenna and Dr. Daniel Hallak
People who embrace the ongoing both/and of their own growth and development as leaders--their competencies and crucibles, the beauty and brokenness--most often have a deep desire to help others do the same.
As one leader put it: 'At the end of the day, this business is an opportunity for me to invest in people.'
That's the heartbeat of our guests and friends, Drs. Rob McKenna and Daniel Hallak, and of WiLD Leaders. Rob and Daniel are back with us for a follow-up, to share real-life stories and examples on the heels of Episode #32 - Bespoke Leader Development. And a story or two of what this can look like amid the intricacies of transitioning a business, where leaders are doing this learning and growing both individually and as teams.
WiLD Leaders is committed to providing a structure of intent for leaders with this belief and commitment, and an ongoing commitment to their own wholeness; a practical structure and process by which leaders are developed alongside and within the everyday processes and practicalities of the business. A structure and process where leaders are deepening in courageous and sacrificial leadership alongside developing in business skills and acumen.
Rob and Daniel share one fun example of a father-son preparing for business transition, both in a process of very intentional development as leaders. About a year into the process a number of people on his team were honest enough to tell the son, "If you told us a year ago that you were going to take over the business, we would have said absolutely no way can you run it, nor would we want to follow you. Now, we've seen so much change that we would and will follow you." A beautiful example of where investing in peoples' development as leaders is at the core an investment in the future of the business.
For Third Turn leaders especially, this commitment can be a core value and integrated practice of our leadership and life--at work, at home and beyond. Investing in people is very much an investment in the future, in the organizations we lead, and with an eye toward a thriving world for our grandchildren's grandchildren.
Additional Resources:


With each episode of the Third Turn Podcast we host a conversation among leaders who want the world to flourish for generations beyond their lifetimes.

Listening with others in some way and enjoying in-depth conversations of your own as you reflect and choose what you would do the same or differently is a plus!

We always welcome you sharing these podcasts with others as well as sending along any suggestions for making these podcasts better.

The Third Turn Podcast is part of the Maestro-level leaders initiative, a production of Design Group International. Strategically Connected's Jennifer Miller is the producer.

Discover more about The Third Turn Podcast: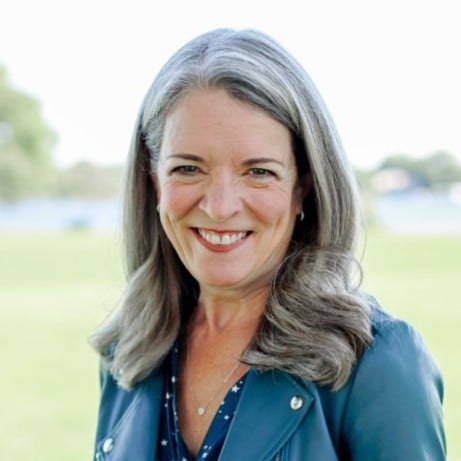 Kristin serves as a Consultant and Coach to leaders, teams, and boards by helping them leverage their unique brand of significance in context of: - Strategic junctures--Helping leaders and teams identify what can't change and what must; - Leadership & life challenges—Helping leaders support, sustain and strengthen their soul in leadership; - Career change & transition—Helping them think creatively and courageously about what's next. Kristin spent 20 years with Fallon Worldwide, leading brand and communications strategy development for clients across a variety of industries—including Nordstrom, Holiday Inn Express, and Children's Defense Fund. Her career journey since has included stints as marketing/strategy director and consultant to companies, nonprofits and ministries in the areas of strategy, culture, communications and board governance. Her teams' work won multiple national effectiveness awards, and her consulting work resulted in a "Best Practice in People/Workplace" by Upsize Magazine. Having completed NeuroLeadership Institute's Brain-Based Coaching Program, Kristin incorporates brain-based principles into change initiatives for organizations, teams, and individuals. She and her husband Jeff Rosell have four awesome adult sons and host an international daughter, originally from South Sudan.