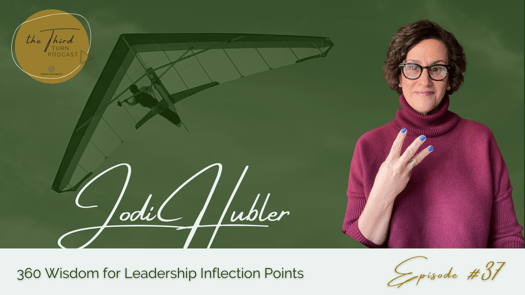 Or Listen on your Favorite Platform:
360 Wisdom for Leadership Inflection Points
Episode #37 of the Third Turn Podcast with Jodi Hubler
Our conversation with guest Jodi Hubler is loaded with insights, wisdom, and pitfalls--lessons learned from her experience in the C-suite, the boardroom, and as an investor; all of these roles and contributions centering around leading and governing in industries facing transformative change.
Like for most of us, signs of Jodi's leadership philosophy and Third Turn calling showed up early and often in her life:
As a principled 17-year-old, picketing the closure of her high school, stymied by the what's, why's, and ripple effects of this leadership decision;
In her 20s and various executive roles, recognizing and factoring in how employees would be significantly impacted by executive strategic-change decisions at both Cargill and Alcoa;
And in her early start-up company experience, being very intentional about employee experience and the possibility that it could indeed serve as a competitive advantage.
The net of all this? 'It became my life's work that transformation didn't have to come in a kind of scorched-earth experience; that we could do transformative change differently.'
And Jodi certainly applies this to leadership transition as well. She shares with us some unique insights and 360-perspective from her roles as CHRO, venture capital investor, and board chair/director. Among them:
Building programmatic discipline into transition planning and process;
Evaluating a leader's ability to navigate current and future inflection points and planning strategically for that;
Avoiding three overarching challenges and pitfalls she sees: 1) waiting too long to address transition, 2) not being planful, 3) fear and avoidance of the tough conversations;
Recognizing that change management applies to the board as well--that as the needs of the organization change so do the needs of the board, and the board must develop itself accordingly, neither overly leading or lagging;
Embracing the opportunity to do transitions well--with grace and space that balances both the needs of the organization and of the individual.
According to Jodi, leadership inflection points are opportunities for greater intention and discipline--and we couldn't agree more.
Additional Resources:
Culture Partners

(previously known as Partners in Leadership) - An organization Jodi references, whose mission is to help clients unleash the power of culture.


With each episode of the Third Turn Podcast we host a conversation among leaders who want the world to flourish for generations beyond their lifetimes.

Listening with others in some way and enjoying in-depth conversations of your own as you reflect and choose what you would do the same or differently is a plus!

We always welcome you sharing these podcasts with others as well as sending along any suggestions for making these podcasts better.

The Third Turn Podcast is part of the Maestro-level leaders initiative, a production of Design Group International. Strategically Connected's Jennifer Miller is the producer.

Discover more about The Third Turn Podcast: