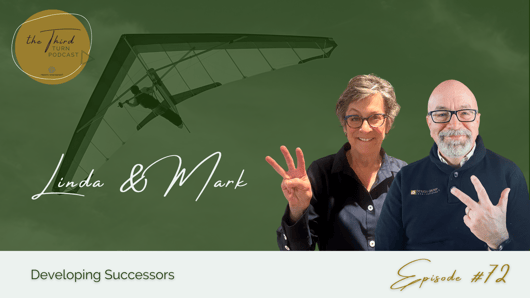 Developing Successors
Episode #72 of the Third Turn Podcast with Linda & Mark
Join Design Group International founder Mark L. Vincent and guest Linda Milanowski-Westdorp as they speak from their experiences with the ever-important topic of identifying and preparing C-suite leadership successors to enable organizational continuity and create value beyond the current leadership tenure.
While we often think of developing successors for the C-suite from the upper levels of mid-management, and there is no doubt the development at this stage is critical, Linda begins the journey of foundational leadership development far earlier in the future successors' careers, with Leadership Minors at Hope College in Holland, Michigan.

According to Jim Kouzes, co-author of the bestselling classic, The Leadership Challenge®, "the average age is around 34-40 when people get their first formal leadership development." Imagine the increase in employee morale and extraordinary results if leaders were equipped with skills and behaviors earlier in their careers, or even before they entered the workplace!
She goes on to describe how energizing it is to witness both students and adults gaining self-awareness on the frequency of their leadership behaviors relative to five research-based core practices commonly taught in corporate, healthcare and non-profit settings. Participants build self-awareness from learning what behaviors they need to engage more and they gain confidence in leadership behaviors they naturally exhibit.
While the 5 practices of leadership have stood the test of time, demographics, and geography, Mark and Linda discuss key changes affecting the environment in which leadership skills are deployed.
Finally, and perhaps most important to charting out your path to developing leadership successors, Mark and Linda provide guiding principles for selecting and developing workplace successors along with examples of returns to look forward to when intentional development investments are prioritized.
Thank you for tuning in – we encourage you to listen for practical suggestions to help take the mystery out of succession planning which, when thoughtfully deployed, creates value for your organization now and into the future.


Additional Resources:
Listen to the Episode Now:
Or Listen on your Favorite Platform:


About The Third Turn Podcast & Maestro-level leaders:
With each episode of the Third Turn Podcast, we host a conversation among leaders who want the world to flourish for generations beyond their lifetimes.

Listening with others in some way and enjoying in-depth conversations of your own as you reflect and choose what you would do the same or differently is a plus!

We always welcome you sharing these podcasts with others as well as sending along any suggestions for making these podcasts better.

The Third Turn Podcast is part of the Maestro-level leaders initiative, a production of Design Group International. Strategically Connected's Jennifer Miller is the producer.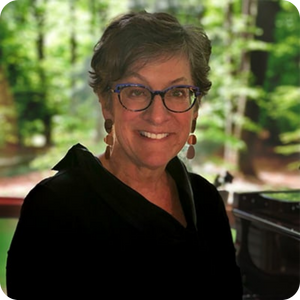 Linda brings broad executive leadership experience from over 3 decades at Herman Miller, Inc. Her corporate background, coupled with extensive non-profit engagement, has yielded deep and wide experiences, which allows her to bring wisdom and insights into any business or non-profit setting. She serves as process consultant, leadership coach, and cross functional facilitator throughout all aspects of business, global corporate, subsidiary, and non-profit settings. Her areas of expertise include Product Design, Development, Market Launch, Change Leadership, and all aspects of Human Resources.