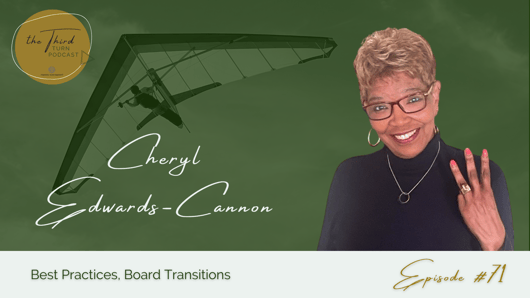 Best Practices, Board Transitions
Episode #71 of the Third Turn Podcast with Cheryl Edwards-Cannon
Co-hosts Linda Milanowski-Westdorp and Mark L. Vincent interview guest Cheryl Edwards-Cannon about the kaleidoscope of experiences that led Cheryl through her three turns of leadership. Her experiences culminated in her role as School Consultant with Grand Valley State University and National Heritage Academy, a leading performer among charter schools and management organizations.
In this episode, Cheryl describes similarities, differences, and best practices for board engagement through three types of transitions. While Cheryl's descriptions are in the context of charter school boards, we hope you will glean wisdom to apply to any board engagement, whether from the role of an executive director or board member, whether in a school, profit, or non-profit organization.
The three types of transition for today's podcast focus on:
Opening a new public charter school

Turning around an under-performing school, and

Succession in board presidents
Cheryl begins with commonalities present in all three types of transition:
Ensuring alignment between the educational goals and fiscal responsibilities of the school;

Governance – creating a strategy with policies to support it;

Recruiting competent and skilled board members;

Conducting annual board self-evaluations and,

Retaining legal counsel
Cheryl goes on to describe key differences that exist across the three types of board transitions:
A board for a newly established organization will have a new school, staff, and students – they'll receive training and coaching in their new responsibilities and have the opportunity to write the initial strategy with policies to support it.

A school board needing to get back on track will conduct a self-evaluation to assess how well they are doing on board governance, the financials of the organization, and perhaps most importantly, student outcomes. The results of the assessment will lead to an action plan to redirect the organization to achieve desired goals.

When a board president announces his/her desire to step down, a successor is named from the existing board. The successor will shadow and receive coaching from the outgoing President, ideally for one year, to fully experience the various annual phases a board is called upon to govern.
Listen in for wisdom that lends itself to effective goal setting, governance, and areas for focus in times of transition.

Additional Resources:
Listen to the Episode Now:
Or Listen on your Favorite Platform:


About The Third Turn Podcast & Maestro-level leaders:
With each episode of the Third Turn Podcast, we host a conversation among leaders who want the world to flourish for generations beyond their lifetimes.

Listening with others in some way and enjoying in-depth conversations of your own as you reflect and choose what you would do the same or differently is a plus!

We always welcome you sharing these podcasts with others as well as sending along any suggestions for making these podcasts better.

The Third Turn Podcast is part of the Maestro-level leaders initiative, a production of Design Group International. Strategically Connected's Jennifer Miller is the producer.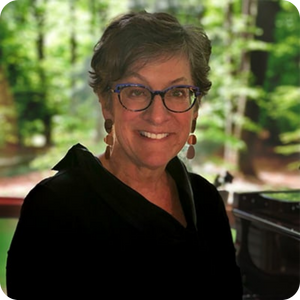 Linda brings broad executive leadership experience from over 3 decades at Herman Miller, Inc. Her corporate background, coupled with extensive non-profit engagement, has yielded deep and wide experiences, which allows her to bring wisdom and insights into any business or non-profit setting. She serves as process consultant, leadership coach, and cross functional facilitator throughout all aspects of business, global corporate, subsidiary, and non-profit settings. Her areas of expertise include Product Design, Development, Market Launch, Change Leadership, and all aspects of Human Resources.