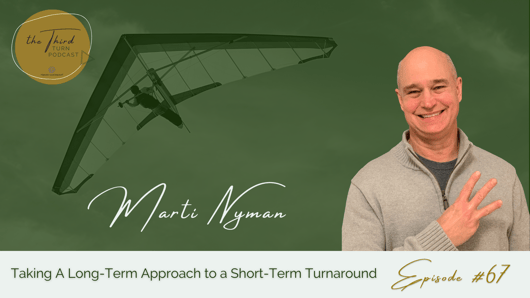 Taking A Long-Term Approach to a Short-Term Turnaround
Episode #67 of the Third Turn Podcast with Marti Nyman
Our guest, CEO Marti Nyman, had a big assignment: To revitalize a $100 million global tech company in short order, with an essential, organization-wide focus on growth, and as preparation for a likely acquisition and merger. And unbeknownst to him, he would need to do this in the context of Covid's market disruptions, remote work realities, and supply chain issues.
When co-host Linda Milanowski-Westdorp and I initially heard Marti share this turnaround story a couple of months ago as a precursor to our interviewing him here, we both noticed feeling the hard-to-reconcile tension between his short-term assignment and his obvious focus on longer-term value. And Marti admits he felt it to some extent too. But for him, this short-term assignment was about creating sustainable value in the organization. And doing so by recognizing the key role culture plays in enabling profitable growth.

Marti's worked in a variety of organizations and industries—all of which make the business case that culture matters. 'In all of the different organizations that I've been in—anywhere from a six-person startup to a $120 billing Fortune 50 firm—the success of the organization and the vibrancy of it is very directly tied to the caliber and quality of leadership.' So he held himself to that standard—leaning hard into adaptability, transparency, empathy, and 'consistent, persistent, effective communications.' In fact, here's a link to one of Marti's weekly communications to the entire company, with the goal of being candid about what he was hearing and seeing, with the goal of creating not just a monologue but a dialogue.
What's Marti most proud of? Sure, there are compelling numbers, but clearly, his pride and joy is in the people that stepped up, going above and beyond what was required in a very challenging time. And that together, they all grew healthier and stronger as an organization ready for a new chapter and poised for the long haul.
Additional Resources:
Two of Marti's favorite and recommended books:
Listen to the Episode Now:
Or Listen on your Favorite Platform:


About The Third Turn Podcast & Maestro-level leaders:
With each episode of the Third Turn Podcast, we host a conversation among leaders who want the world to flourish for generations beyond their lifetimes.

Listening with others in some way and enjoying in-depth conversations of your own as you reflect and choose what you would do the same or differently is a plus!

We always welcome you sharing these podcasts with others as well as sending along any suggestions for making these podcasts better.

The Third Turn Podcast is part of the Maestro-level leaders initiative, a production of Design Group International. Strategically Connected's Jennifer Miller is the producer.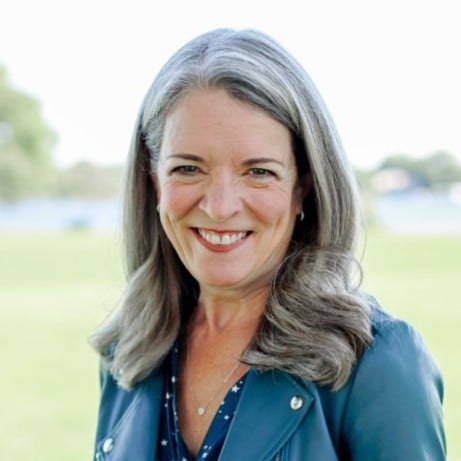 Kristin serves as a Consultant and Coach to leaders, teams, and boards by helping them leverage their unique brand of significance in context of: - Strategic junctures--Helping leaders and teams identify what can't change and what must; - Leadership & life challenges—Helping leaders support, sustain and strengthen their soul in leadership; - Career change & transition—Helping them think creatively and courageously about what's next. Kristin spent 20 years with Fallon Worldwide, leading brand and communications strategy development for clients across a variety of industries—including Nordstrom, Holiday Inn Express, and Children's Defense Fund. Her career journey since has included stints as marketing/strategy director and consultant to companies, nonprofits and ministries in the areas of strategy, culture, communications and board governance. Her teams' work won multiple national effectiveness awards, and her consulting work resulted in a "Best Practice in People/Workplace" by Upsize Magazine. Having completed NeuroLeadership Institute's Brain-Based Coaching Program, Kristin incorporates brain-based principles into change initiatives for organizations, teams, and individuals. She and her husband Jeff Rosell have four awesome adult sons and host an international daughter, originally from South Sudan.