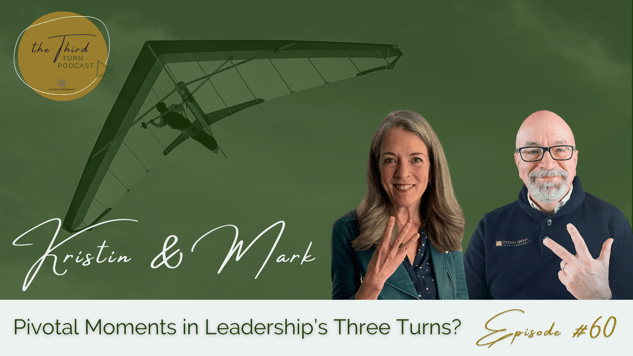 Pivotal Moments in Leadership's Three Turns?
Episode #60 of the Third Turn Podcast with Mark Vincent & Kristin Evenson
In this episode, Mark and I tell stories—pivotal stories from our own three turns of leadership. The personal experiences we share here happened in a wide variety of leadership contexts—a brokerage firm, boardroom, Burger King, and church, to name just a few—but all have one thing in common: They were deeply formative, pivotal moments in our respective leadership journeys.

A couple involved recognizing our respective blind spots. Several were deeply humbling. A couple were redemptive and life-giving.
But in all cases, the stories Mark and I reflect on together here stretched us, grew us, and, we realize in retrospect, played a key role in calling out character from us and probably even equipped us for the next turn of leadership that awaited.

As you listen, we hope it will prompt you too to reflect on those formative, pivotal moments of your own leadership journey. What have been pivotal moments that called you further and more deeply into leadership? And perhaps equipped and invited you into a next turn?
Additional Resources:
E.S. Schumacher distinguishes four fields of knowledge: (1) self-knowledge; (2) knowledge of the self of others; (3) knowledge of the self as seen by others; and (4) knowledge of the outside world —which is a helpful reference relative to our blind spots.
Mark and I mention a couple of organizations and individuals that played a key role for us—actually, both in helping usher in our third turn.
Bridge2Rwanda connects worthy but disadvantaged students in Africa with educational opportunities in the US and Canada—giving them a 1-year college prep experience as they apply to colleges. My international daughter Mary Maker—born in South Sudan and raised in Kakuma Refugee Camp in Kenya—came to my alma mater, St. Olaf College in Northfield MN, and I've been a host parent for her. Check out Mary's Ted Talk ("Why I Fight For The Education of Refugee Girls (Like Me)") recorded when Ted visited Kakuma a few years ago, to get a dose of this gifted dynamo.

Meeting Dennis R Humphrey (of Eden Business Concepts) presented Mark with an important decision about the leadership of his Convene roundtable.
Listen to the Episode Now:
Or Listen on your Favorite Platform:


About The Third Turn Podcast & Maestro-level leaders:
With each episode of the Third Turn Podcast, we host a conversation among leaders who want the world to flourish for generations beyond their lifetimes.

Listening with others in some way and enjoying in-depth conversations of your own as you reflect and choose what you would do the same or differently is a plus!

We always welcome you sharing these podcasts with others as well as sending along any suggestions for making these podcasts better.

The Third Turn Podcast is part of the Maestro-level leaders initiative, a production of Design Group International. Strategically Connected's Jennifer Miller is the producer.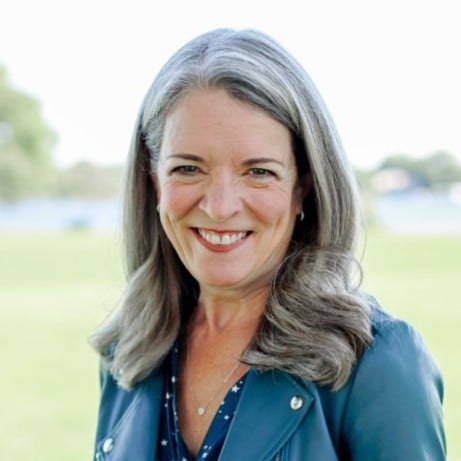 Kristin serves as a Consultant and Coach to leaders, teams, and boards by helping them leverage their unique brand of significance in context of: - Strategic junctures--Helping leaders and teams identify what can't change and what must; - Leadership & life challenges—Helping leaders support, sustain and strengthen their soul in leadership; - Career change & transition—Helping them think creatively and courageously about what's next. Kristin spent 20 years with Fallon Worldwide, leading brand and communications strategy development for clients across a variety of industries—including Nordstrom, Holiday Inn Express, and Children's Defense Fund. Her career journey since has included stints as marketing/strategy director and consultant to companies, nonprofits and ministries in the areas of strategy, culture, communications and board governance. Her teams' work won multiple national effectiveness awards, and her consulting work resulted in a "Best Practice in People/Workplace" by Upsize Magazine. Having completed NeuroLeadership Institute's Brain-Based Coaching Program, Kristin incorporates brain-based principles into change initiatives for organizations, teams, and individuals. She and her husband Jeff Rosell have four awesome adult sons and host an international daughter, originally from South Sudan.