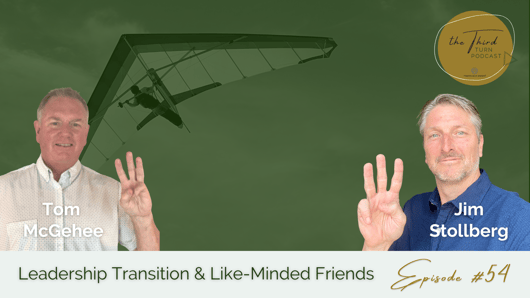 Leadership Transition & Like-Minded Friends
Episode #54 of the Third Turn Podcast with Jim Stollberg & Tom McGehee
This episode's guests are like-minded, shared-values friends who, like us, are motivated by:
A shared commitment to navigate change and transition in an intentional and iterative way;

Strong values around operating with a deeper purpose and greater good in mind;

Deep belief in the instrumental role of peers and camaraderie whether in "peeling back the layers of the onion" or "peering into the mist."
Jim Stollberg and Tom McGehee are Co-Executive Directors of Halftime Institute, an organization born out of Bob Buford's 1995 book "Halftime." For more than 20 years, Halftime Institute has served thousands of men and women with programs and community toward the ultimate goal of helping leaders create a next chapter of contribution marked by not just success but significance, and not just career but calling.
In this episode, Jim and Tom share about:
Their own respective career journeys and personal insights gleaned through their Halftime experiences, and the unique circumstances that led to them now co-leading the organization;

Their passion for Halftime Institute's work and vision for its next chapter which, as they say, seems to be in its own organizational transition toward greater significance.
And they're very honest and forthcoming about their approach to co-leading, especially in light of a Harvard Business Review article released in serendipitous tandem with our recording session--"Is It Time To Consider Co-CEOs?" (Spoiler alert: They seem pretty convinced that co-leading would not be a productive reality without their having shifted from Second Turn/success-driven leaders to Third Turn/significance-driven leaders.)
These are certainly like-minded, shared-values friends leading in a new way, to a new season of fruitfulness for the organization they steward, and toward greater impact and future value for those they serve, and generations that follow.


Additional Resources:
Jim and Tom reference a couple compelling examples of Halftime alums living out next-chapter calling in transformational ways:

The Russell is a boutique hotel housed in a 115-year old church in Nashville TN, developed by Micah Lacher with a social business model to support local homeless ministries. The average stay at The Russell provides 16 beds and warm meals at local homeless shelters.
BuildStrong Academy - Born out of the shared capabilities and vision of two Halftime alums--one with expertise in construction, the other in franchising, BuildStrong Academy is passionate about training, elevating, and supporting the construction workforce, with franchise opportunities to create more BuildStrong Academies across the country.



Listen to the Episode Now:
Or Listen on your Favorite Platform:


About The Third Turn Podcast & Maestro-level leaders:
With each episode of the Third Turn Podcast, we host a conversation among leaders who want the world to flourish for generations beyond their lifetimes.

Listening with others in some way and enjoying in-depth conversations of your own as you reflect and choose what you would do the same or differently is a plus!

We always welcome you sharing these podcasts with others as well as sending along any suggestions for making these podcasts better.

The Third Turn Podcast is part of the Maestro-level leaders initiative, a production of Design Group International. Strategically Connected's Jennifer Miller is the producer.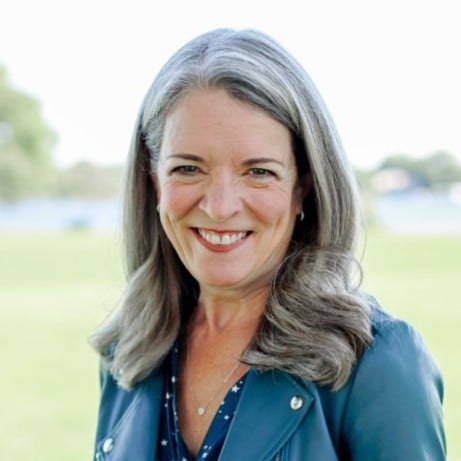 Kristin serves as a Consultant and Coach to leaders, teams, and boards by helping them leverage their unique brand of significance in context of: - Strategic junctures--Helping leaders and teams identify what can't change and what must; - Leadership & life challenges—Helping leaders support, sustain and strengthen their soul in leadership; - Career change & transition—Helping them think creatively and courageously about what's next. Kristin spent 20 years with Fallon Worldwide, leading brand and communications strategy development for clients across a variety of industries—including Nordstrom, Holiday Inn Express, and Children's Defense Fund. Her career journey since has included stints as marketing/strategy director and consultant to companies, nonprofits and ministries in the areas of strategy, culture, communications and board governance. Her teams' work won multiple national effectiveness awards, and her consulting work resulted in a "Best Practice in People/Workplace" by Upsize Magazine. Having completed NeuroLeadership Institute's Brain-Based Coaching Program, Kristin incorporates brain-based principles into change initiatives for organizations, teams, and individuals. She and her husband Jeff Rosell have four awesome adult sons and host an international daughter, originally from South Sudan.