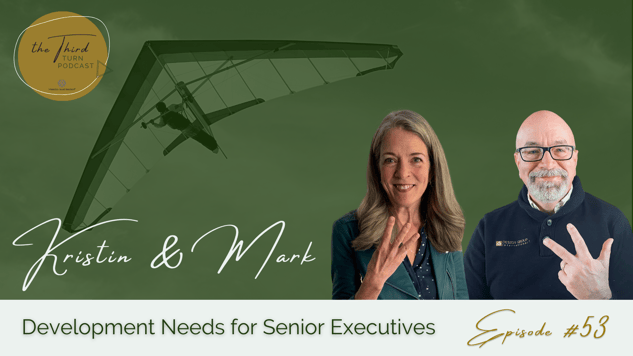 Development Needs for Senior Executives
Episode #53 of the Third Turn Podcast with Kristin & Mark
In this episode of the Third Turn podcast, co-hosts Mark L. Vincent and Kristin Evenson process out loud and invite you to consider the unique development needs that develop for leaders, especially in context of Third Turn leadership. Things like navigating the inherent anxiety of our organizations and systems in times of change and future thinking; prioritizing adaptiveness in context of experience and competence; setting aside time to think in an adaptive and generative way; and on a more personal side, navigating our own shadows and blind spots, managing our own time-and-attention budget alongside the #s and budgets of the business.
Because these numbers tell a story of the high calling and lost opportunities in Third Turn leadership, change and transition--and the dearth of leadership able to step up to it:
For every 100 people that enter the workplace…
Only 14 will lead an organization at some point in their career…
And only 2 of those will lead the organization to what is considered "a successful transition."
Consider this episode a call to equip and develop oneself well, with an eye toward being the kind of leader who leaves the organization better off.
Resources to Consider:
Strengthening the Soul of Your Leadership - a 2-year leadership program that both Kristin and Episode #19 guest Kenny Cox experienced and recommend. "For those longing to forge a stronger connection between their soul and their leadership."

A couple systems theory resources:

David Goldsmith's book Paid to Think: A Leader's Toolkit for Redefining Your Future--"Goldsmith presents his groundbreaking approach to leadership and management based on research revealing the 12 specific activities that all leaders perform on a daily basis, and he provides you with each activity's accompanying tools and instructions proven to boost your performance and that of your entire organization."

Listen to the Episode Now:
Or Listen on your Favorite Platform:


About The Third Turn Podcast & Maestro-level leaders:
With each episode of the Third Turn Podcast, we host a conversation among leaders who want the world to flourish for generations beyond their lifetimes.

Listening with others in some way and enjoying in-depth conversations of your own as you reflect and choose what you would do the same or differently is a plus!

We always welcome you sharing these podcasts with others as well as sending along any suggestions for making these podcasts better.

The Third Turn Podcast is part of the Maestro-level leaders initiative, a production of Design Group International. Strategically Connected's Jennifer Miller is the producer.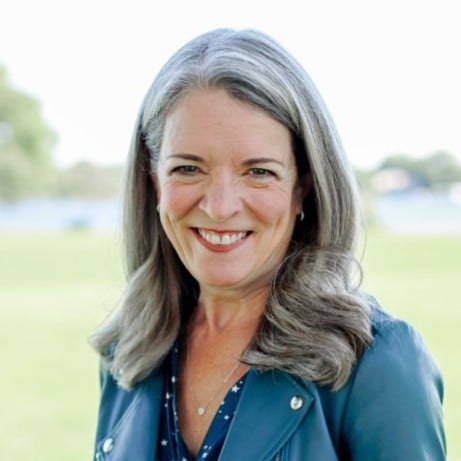 Kristin serves as a Consultant and Coach to leaders, teams, and boards by helping them leverage their unique brand of significance in context of: - Strategic junctures--Helping leaders and teams identify what can't change and what must; - Leadership & life challenges—Helping leaders support, sustain and strengthen their soul in leadership; - Career change & transition—Helping them think creatively and courageously about what's next. Kristin spent 20 years with Fallon Worldwide, leading brand and communications strategy development for clients across a variety of industries—including Nordstrom, Holiday Inn Express, and Children's Defense Fund. Her career journey since has included stints as marketing/strategy director and consultant to companies, nonprofits and ministries in the areas of strategy, culture, communications and board governance. Her teams' work won multiple national effectiveness awards, and her consulting work resulted in a "Best Practice in People/Workplace" by Upsize Magazine. Having completed NeuroLeadership Institute's Brain-Based Coaching Program, Kristin incorporates brain-based principles into change initiatives for organizations, teams, and individuals. She and her husband Jeff Rosell have four awesome adult sons and host an international daughter, originally from South Sudan.