This year through A Cause Greater,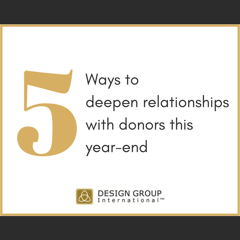 I've talked a great deal about the importance of initiating, developing and sustaining authentic donor relationships. I hope you've found value in this approach to donor cultivation and stewardship, and have been inspired to try some new things in your work.
With the year-end giving season upon us, I wanted to touch on five things that can diminish the efforts you've put into developing relationships with donors this year. Here they are:
Don't send a thank you note.
Don't call or meet with the donor.
Don't ask them why they chose to give to your organization.
Don't educate them about your mission or the good work underway.
Don't cash their check in a timely fashion.
Do these sound a little silly? Luckily, I don't know a single nonprofit that would intentionally set out to do these don'ts. But, as we get caught up in the busyness of year-end, these things aren't as rare as you might think.
HOW TO DEEPEN RELATIONSHIPS WITH DONORS THIS YEAR-END
This year-end, I challenge you to do the opposite of the list above. Develop authentic, long-term relationships with your donors by doing these things instead:
Send a personalized thank you note. If you don't have time to send a separate thank you note to each donor, at the very least add a personalized note to their gift acknowledgment letter. Use this as an opportunity to make the donor feel appreciated and good about their decision to support your organization. Also, consider who should write these notes—is it the development officer, the president or a board member? What would make that particular donor feel special? They are worth the extra effort.
Make the call. In a previous post, I encouraged you to find natural ways to connect. This is an easy one. Don't assume the donor doesn't want to hear from you. Often when our phones ring, someone is calling because they want something from us. Be the exception! You are calling to express gratitude and spread joy. This is also an excellent opportunity to schedule coffee with the donor in the new year.
Ask questions and listen. While you have time with the donor, resist the urge to talk at them and instead learn from them. I've referred to this before as finding a shared sense of purpose. Ask questions like, Why do they give to your organization? Why does your purpose matter to them? What's their perspective? What difference do they hope to make in the world and why?
Share the impact of your organization. Whether it's through your acknowledgment letter, a phone call, or a meeting, share with them how they are helping fulfill your organization's mission. And be curious. What aspects of your work pique their interest? Maybe there's a particular program that might resonate with them—a space where they could choose to engage more deeply.
Demonstrate professionalism. This means promptly cashing checks and sending gift acknowledgment letters in a reasonable amount of time. The details matter. Check spelling, dates, gift amounts and appropriate salutations. You've worked hard to develop these relationships, and you don't want to let simple mistakes ding your credibility.
A successful year-end is part process and part personal. This season, my hope for you is that you do not let these opportunities to deepen relationships with donors slip away. Putting in the extra effort now will set you up for even more success in 2019.

Have a thought, question or example to share? Please use the comments area below. If you'd like to talk about strategies for deepening relationships with donors through year-end with me more directly, you may reach me at (877) 771-3330, ext. 15.