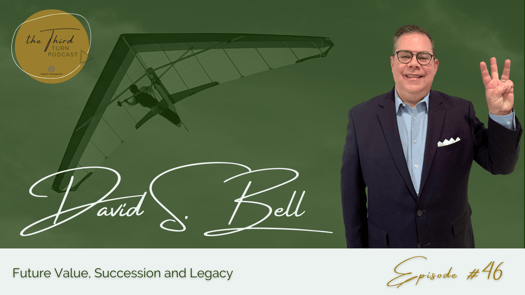 Or Listen on your Favorite Platform:
Future Value, Succession and Legacy
Episode #46 of the Third Turn Podcast with David S. Bell
With each episode of the Third Turn Podcast, we intend to provide resources for leaders who take the long-term point of view. They don't ignore the short term at all. Rather, they handle urgent matters with a clarity about what matters over time.
We also intend to take an integrated point of view. The whole person of the executive leader matters. Everything from their body budget, the strength of their household and community, and clear intentions regarding their estate all come into play.
Our conversation with David S. Bell brings insight into long-term financial management for all of us, and most especially that Third Turn, Maestro-level leader who cares about future value, succession and legacy.
David combines executive and governance excellence with lifelong learning. Just take a look at this bio:
In addition to serving as a Senior Design Partner with Design Group International™, David is an adjunct instructor at United Theological Seminary and currently serves as President and Executive Director with The United Methodist Foundation of Michigan. He is the past chairperson of the Board of Directors of the Ecumenical Stewardship Center. He is an active member of the Association of Fundraising Professionals, the National Association of Charitable Gift Planners, and the Church Network powered by the National Association of Church Business Administrators. He is President of the Executive Committee of the National Association of United Methodist Foundations, a trustee of United Theological Seminary, a Board of Directors' member of the General Council on Finance and Administration of The United Methodist Church, a former member of the Advisory Board of The United Methodist Church Development Center, a former member of the Advisory Council of the Good Sense Movement, a former Director and Program Committee Chair of Lakeside Chautauqua.
David is a magna cum laude graduate of Drew Theological School, holds a Bachelor of Arts degree in Religious Studies and Secondary Education from The College of Wooster and a Post-Graduate Certificate in Executive Leadership with a specialization in Emotional Intelligence and Executive Coaching from the Weatherhead School of Management at Case Western Reserve University.
There is not much when it comes to advising businesses and leaders, or serving on or leading boards that David has not seen – whether at the personal or organizational levels.
I've been privileged to know and work alongside David for quite a few years, even more to be a business partner with him through Design Group International. We invite your listening to his wise perspective! And, of course, we welcome your subscription and pointing this podcast to others who would benefit.
Additional Resources:


- Mark L. Vincent
With each episode of the Third Turn Podcast we host a conversation among leaders who want the world to flourish for generations beyond their lifetimes.

Listening with others in some way and enjoying in-depth conversations of your own as you reflect and choose what you would do the same or differently is a plus!

We always welcome you sharing these podcasts with others as well as sending along any suggestions for making these podcasts better.

The Third Turn Podcast is part of the Maestro-level leaders initiative, a production of Design Group International. Strategically Connected's Jennifer Miller is the producer.

Discover more about The Third Turn Podcast: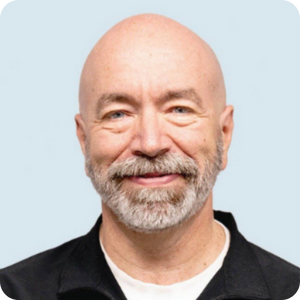 I walk alongside leaders, listening to understand their challenges, and helping them lead healthy organizations that flourish.