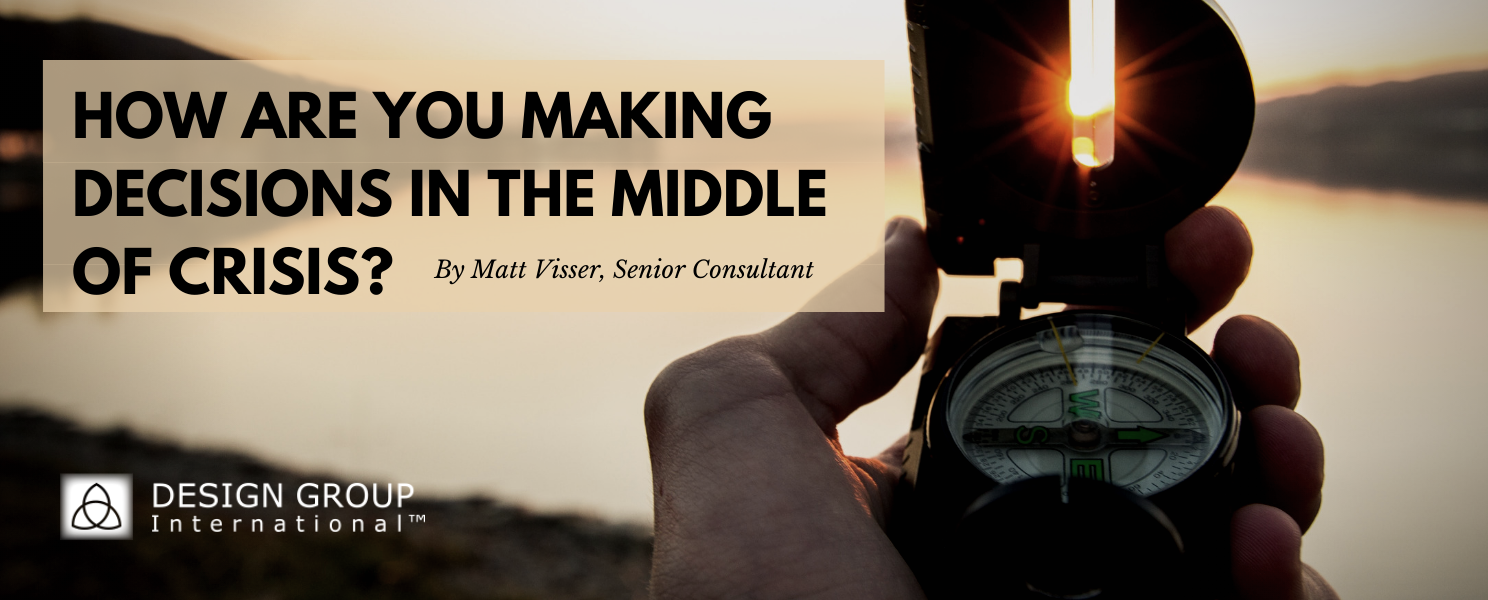 As I work with my nonprofit clients and connect with so many organizational leaders in the last couple weeks, they are working countless hours trying to make the best decisions they can in the middle of a crisis. They are tired, stretched thin, uncertain of the future, and faced with difficult decisions that impact the lives of their stakeholders and staff in real ways.
You may be facing difficult decisions about your future, your programs, your staff, your budget, or your fundraising strategy. You are discerning how to maintain the continuity of your mission in 2020 and beyond.
As you discern these decisions, take a moment to consider your decision-making process. When and why are you making decisions that are either reactive, responsive, proactive, or innovative?
Here are 4 types of decisions you make, when each is needed, and their impact in the middle of a crisis.
Reactive Decisions
Our reactive decisions are made in the moment when we must react to something that has already happened (or is happening) in real-time. When we are surprised by a sudden consequence during the day or week, we react and make a quick reactive decision.
We often make reactive decisions with a minimal amount of information because there timing is the most important factor. When the kitchen is on fire, we aren't able to stop, gather all the proper information, and make a calculated decision. We just need to stop the burning. You want to make these types of decisions as a worst-case scenario.
Don't beat yourself up if you are making reactive decisions right now...you are doing the best you can! The goal is to reduce the number of reactive decisions whenever possible.
Responsive Decisions
We make responsive decisions when an immediate need has emerged and we need a timely response to avoid negative consequences. The types of decisions are necessary when a challenge is emerging in real-time. The situation is not dire yet, but you need to make a clear decision to meet an emerging challenge.
When faced with the need for a quick response, gather the best information, assemble the right people, make a clear decision, and communicate to all those impacted. This is a common type of decision and should focus on clear communication, strengthening relationships through the process, and modeling the organizational values.
Proactive Decisions
We make proactive decisions in order to anticipate an emerging challenge or adapt to a changing landscape in order to maintain continuity of your current programs or initiatives.
After making all necessary reactive or responsive decisions, keep the right team together and create space for gathering all the essential information. Proactive decisions can prevent negative consequences and solve problems before they happen.
A proactive decision-making process can help you live out your organizational mission and values and strengthen your capacity in the middle of a crisis.
Innovative Decisions
The most difficult thing right now is to be thinking about long term planning and decision making. Innovative decisions will help you explore opportunities as you think creatively about the future impact of your mission in this season of change. Innovative decisions will create future value for your organization.
An innovative decision-making process will engage how your industry is evolving because of change and disruption. By thinking innovatively, you are able to leverage new learning and growth, identity future solutions, and add value to the way you deliver your mission to your stakeholders.
Questions to Guide your Decision-Making Process
As you build a process for decision-making, consider the following questions that can help you strengthen your leadership and organization through the process. These questions can also serve as a barometer for measuring the strength of your decisions.
Why

are we making this decision? What is motivating the decision? How does our decision align with our mission, values, and vision for the future?
Who

needs to be involved in making this decision? Who is best equipped to provide the information needed to make a good decision?
What

short-term or long-term benefits and consequences would the decision create? What do we hope to accomplish through this decision?
How

can we best implement the decision? How can we communicate the decision effectively to ensure collective awareness and ownership?
Conclusion
As a leader, are you feeling overwhelmed by all the decisions facing you and your organization in this crisis moment? Could you use help navigating your organizational future in the middle of this crisis?
My commitment is to walk alongside leaders and organizations to help transform for a vibrant future. If you want support and an active listener in this season, let's connect.
Be well,
Matt V.
-------------
Matt Visser is a Senior Consultant with Design Group International. He has invested over 19 years in growing nonprofit organizations and his greatest joy is empowering adaptive leaders to tackle complex problems.
To learn more about Design Group International and its' work helping leaders and organizations transform for a vibrant future, visit http://designgroupinternational.com.