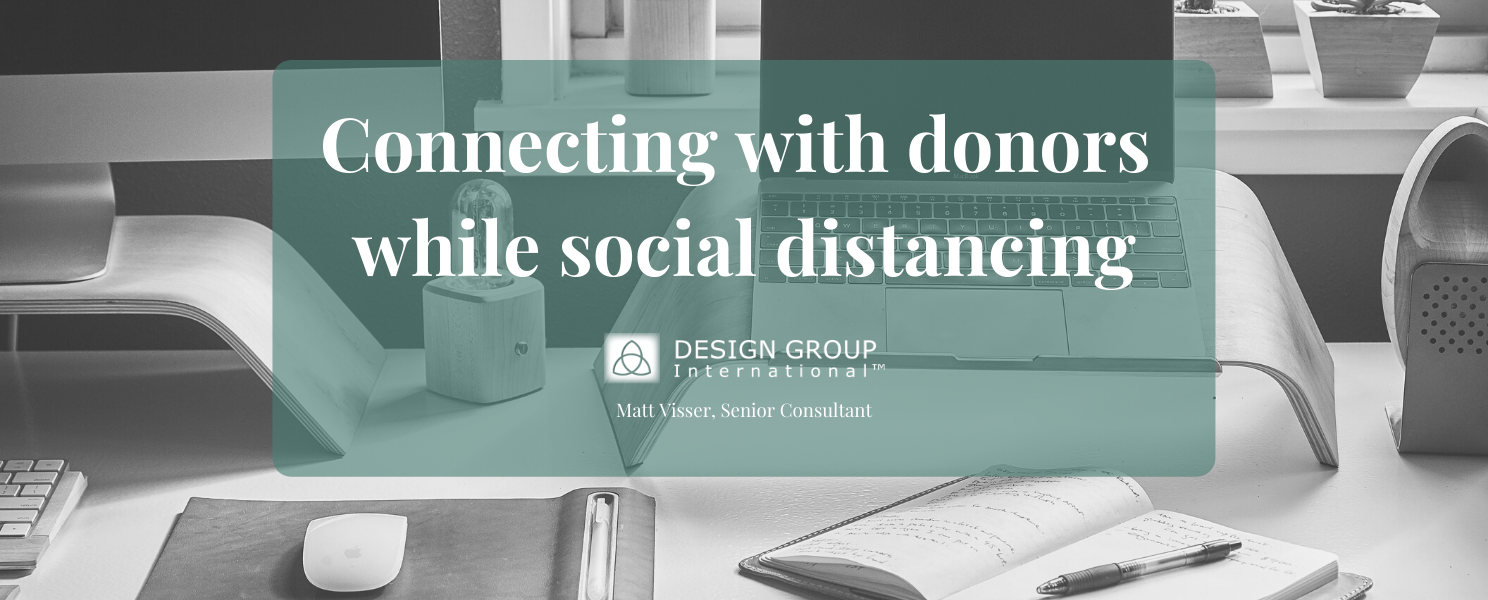 This past month has been quite a whirlwind for us all and especially for your organizations as you work to create continuity of care for those you serve. If you are a fundraising professional working from home and working hard to maintain your essentialfunding, here are some creative ways to stay connected with donors during social distancing.
Last month, my colleague Lon shared 3 things a donor wants to hear from you right now. These guidelines can help you shape your messaging in these challenging times. In addition, I provided a primer for ways to engage your donors when your event gets cancelled.
Now that you may be working from home, here are 5 ways to reach your donors creatively while honoring stay-in-place principles.
Virtual Breakfast, Lunch, or Coffee
Routines are important for people, including our donors, and we want to make real human connections whenever possible. By inviting your donors to join you for a virtual meal or coffee, we can enjoy a bit of familiarity in the midst of so much change and uncertainty. Although breakfast and lunch look much different when we are home (especially with children and family members as "coworkers"), sharing a familiar rhythm of life will create a natural connection.
Planning: Block out 5 meals or coffee times for the next several weeks for intentionally sharing time with your donors. Make your list and send personalized invitations (emails, phone calls) to join you for a visit.
Empathy Check-In Calls or Texts
We are all in this together and your donors may be feeling the same sense of isolation and uncertainty right now. Reach out with the sole purpose of checking in on their lives in the middle of this crisis. How are they doing personally? How is their work or business being impacted?
Right now, people are much more likely to pick up the phone when it rings, so reach out with a call or text to be an encouragement. Asking deeper questions about their lives and businesses may just the type of support they need right now.
Planning: Choose 10 donors each week, spend time thinking about their current reality, and reach out to them via phone or text. Give space in your schedule to engage them when they respond.
Old-Fashioned Snail Mail
Ditch the fancy letterhead and write a personalized snail mail letter. Connecting to your donors to share what's happening with the organization, how COVID has impacted your mission, and thanking them for your continued support is a great way to strengthen your relationship. Although a one-way piece of communication like a letter is always limited in nature, personalized notes of encouragement with an update can help build a connection with your donors.
Planning: Identify a group of donors whom you want to write a personalized snail mail letter to in the next 3 weeks. Draft a story you want to share, a summary of how your mission has been impacted, and a format for your messaging.
Personalized Gratitude Messages
Has a donor given a gift in the middle of this crisis moment? Shift your standard form letter response and receipt and write a hand-written thank you card or send a thank you video message. A personal message that shares how much you care about their investment will help them know how much you care.
Planning: Pick a format for your gratitude messages and print your list of donors who gave in the past 30 days. Send them your personalized gratitude message. Keep your process going over the next 8 weeks as you receive new gifts.
Quarantine Care Packages
Since many states have similar stay-in-place directives, consider putting together small gift packages for your donors to encourage them during this time. Last month, I received flowers and a tumbler from a local organization when their event was canceled, and it was such an encouragement! Make sure you are following your individual state guidelines when doing porch drop-offs, but this activity can mean so much to your donors.
Planning: Inventory the items you already have that you can give away, supplement those items with small care items, and build your care packages. Identify a donor group that best fits this type of encouragement (monthly giving circles, etc.) and send your care packages.
Conclusion
Life is complex right now in so many ways. If you are like me, the challenges of stay-in-place are real with the multiplicity of roles you play! These creative ways of connecting with donors are meant to encourage you in your work as you seek to make the most of this time and continue to share opportunities to invest in your organizational mission through financial support.
Wherever you are today, may you feel encouraged and supported in your work that can feel isolating and overwhelming at times!
Be well,
Matt
------------
Matt Visser is a Senior Consultant with Design Group International. After a long career helping college students find their purpose, he tripped into fundraising and now, consulting with nonprofit leaders throughout the country. His passion is walking alongside leaders to help them gain clarity for the future, create healthy ecosystems, fundraise more money to advance their cause, and build trusting relationships with their audiences.
To learn more about Design Group International and its' work helping leaders and organizations transform for a vibrant future, visit http://designgroupinternational.com.