I am pleased to share with you that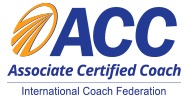 I've earned the designation of
Associate Certified Coach from the
International Coaching Federation (ICF)!
To earn this certification I completed 60+ hours of coach training, was mentored by a professional coach, and officially logged more than 100 hours of coaching experience with clients. Having a credential from ICF also signifies my commitment to adhere to a high set of standards and a strong code of ethics.
ICF defines coaching as "partnering with clients in a thought-provoking and creative process that inspires them to maximize their personal and professional potential."
That means that if you and I enter into a coaching relationship you can expect to experience fresh perspectives on personal and professional challenges and opportunities.
For me, coaching includes asking questions to help clients connect with answers that already exist inside them. We partner together to help you set goals and create plans and strategies for achieving them. I'm excited to have a broader set of tools and questions to guide this important work.
At Design Group International, we use an inquiry-based collaborative process with clients to help them uncover new learning and discover a pathway forward. No matter what process is out ahead of you—leadership transition, strategic planning, organizational change, or a capital campaign, just to name a few—we walk alongside you to help you meet this future with confidence.
In an upcoming post, I'll talk more about coaching and process consulting and share some examples of what they look like in my work with clients. In the meantime, if you'd like to explore whether coaching is right for you, please call me at .(877) 771-3330, ext. 15.