A friend recently told me that he wanted to transition from his role of CEO of an organization to a new role: Founder. I've known him for 15 years, and that desire intrigued me. "What do you hope to achieve through your transition?" I asked.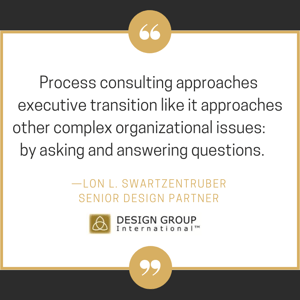 Some of his responses were easy to understand—like his desire to spend more time with his wife or having more opportunities to enjoy reading with his grandkids. Other answers were unexpected, and they piqued my curiosity.
The answer that was most present to him, and what we spent most of our time together on, was that he wanted to see the values of his firm—which were also some of his own deeply-held values—live beyond his time as CEO.
I shared with my friend that as a process consultant, I believed that the answers to his questions about the transition from CEO to Founder were inside of him, and my role was to draw those answers out and then reflect on them with him.
To help provide context to this specific process, I highly recommend the following resources: The Founder's Dilemmas Anticipating and Avoiding the Pitfalls That Can Sink a Startup by Noam Wasserman and Finish Big: How Entrepreneurs Exit Their Companies on Top by Bo Burlingham. Each of these proved very helpful in understanding the broader concepts in executive transition, especially from a Founder's perspective.
Both Wasserman and Burlingham talk about the phases of an executive transition, how succession planning is an integral part of the process, how you need to begin earlier rather than later, and so on. These are useful concepts that can provide an important framework for thinking about your transition.
However, each person is different, which means each executive transition will be different.
Process consulting approaches executive transition like it approaches other dynamic and complicated organizational issues: by asking and answering questions. Learn more here.
The question that my friend and I honed in on was "Why have an executive transition?" Answering this question helped him get in touch with his hopes and dreams for his company. We explored why he started the company in the first place and why its success is essential in the world.
His answers were very aspirational and very personal. More importantly, they were his answers—not my ideas or some author's ideas. Ultimately, he was set up for a very fruitful transition.
READY TO LEARN MORE?
To learn more about how a process consulting approach can help with your executive leadership transition, please reach me at (877) 771-3330, ext. 15 or submit your information here. You're also welcome to post your questions or comments below.