The Organizational Development Muse
Read More ›
Topics: process design, process consulting, Process Consultation, Leading at a Higher Level, discernmentarian, nonprofit leadership, servant leadership, Process consultation and design, It begins wtih design, organizational development consulting, Non-Profit Leadership, organizational process, strategic interim leadership, leadership failure, Organizational Transformation, leadership paradox, Organizational Life Cyle, sustainable vision, strategic planning, executive leadership, contextual leadership, stewardship based leadership, triple loop learning, organizational development muse, Convene, blurred communication, Mark L. Vincent, Design Group International, small business development, adaptive leadership, Organizational Management, leadership dynamic, action-reflection, mark vincent, organizational clarity, The Tao of Action-Reflection, steward leadership, leadership theory, leadership definition, leadership clarity, Developing Leaders, Change Management, leadership paradigm, Peer-based advising, leadership excellence, CEO peer-based advising,, executive communication, leadership communication, peer-based executive teams, Executive peer-based advising, long term decision making, leadership wisdom, Leadership intuition, forward-thinking realized, capacity building, selfless leadership, open vs. closed organizational systems, business success, organizational strategy, business design, business models, polarity management, one-page planning, organizational development process, society for process consulting, leadership transition, identifying adaptive change, leading organizational change, process chaplaincy, who what when where why how

My family story is one of holding our household together through my wife's long battle with leiomyosarcoma. Eighteen occurrences in sixteen years is a lot for anyone. We've made it this far, raising our children and now enjoying being grandparents, while building Design Group International, completing research projects related to graduate education, and finding ways to enjoy life, however constricted it might feel.
Read More ›
Topics: process design, process consulting, becoming a steward leader, executive coaching, stewardship based leadership, Convene, peer-based consulting teams, Mark L. Vincent, Design Group International, steward leadership, leiomyosarcoma, Executive Development, Peer-based advising, peer-based executive teams, Executive peer-based advising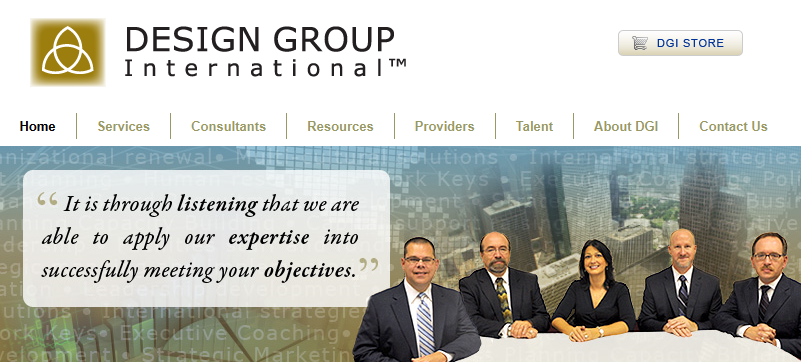 Design Group International Senior Design Partners and Senior Consultants are committed to lifelong learning. To that end, I'm currently enrolled in a financial management course offered by Christian Leadership Alliance. At the end of each two week session I have to post a reflection. This past session had me thinking about the intersection of raising money and managing the money in nonprofit organizations.
Read More ›
Topics: process consulting, nonprofit leadership, organizational development consulting, emell vee, financial management, stewardship based leadership, ministry financial management, Mark L. Vincent, Design Group International, Whorled Viewz, organizational design, fund raising, steward leadership