People often ask me,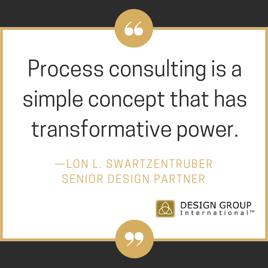 "What is process consulting?"
The term can sound intimidating,
but at its core, process consulting
is about helping a person or an
organization understand what will
truly help them, and then assisting
them in taking action to achieve it.
Nothing more, nothing less.
Edgar Schein defines process consulting as "a set of activities on the part of the consultant that helps the client to perceive, understand, and act upon the process events that occur in the client's environment in order to improve the situation as defined by the client."
Process consulting is a simple concept that has transformative power.
WHAT DOES PROCESS CONSULTING LOOK LIKE?
Let's think about it in three basic steps, from the client's perspective:
You and the process consultant explore open-ended questions that help you understand the situation that actually needs to be addressed.
You and the process consultant uncover what might help the situation improve.
The process consultant walks alongside you as you implement the needed change.
HERE'S A REAL-LIFE EXAMPLE.
A few years ago, a prospective client reached out to me seeking to raise more money for his nonprofit organization.
After I asked open-ended questions of him and his board of trustees, they began to wonder how well they truly understood what the organization's "customers" considered value. That wasn't exactly the outcome he was seeking from his original call to me, but it proved to be significant.
Over the course of a year, we talked with hundreds of the organization's customers, asking them questions in large groups, small groups, and individually.
Through these conversations, my client began to consider how he might become more relevant to his customer, how his organization might meet more of what the customers valued, and how their relationship might become closer through that experience.
Over the next six months, the organization's leadership began working on developing new programs and services with their customers. This provided the organization the opportunity to create more value, strengthen relationships and programs that served their customers, and help make the organization stronger through increased charitable giving.
Through process consulting, my client learned much more about his organization than just how to raise more money. He was able to see his organization's future more clearly, uncover the truths about what their customer needed, and realign the organization to achieve the new vision that emerged.
READY TO LEARN MORE ABOUT PROCESS CONSULTING
To learn more about how process consulting can help you and your organization, please reach me at (877) 771-3330, ext. 15 or submit your information here. You are also welcome to post your questions or comments below.