"One of the things that I'm constantly obsessed with is trying to get just the feeling of the balance between the right hand and the left hand and make it feel good."
(Aaron Diehl, stride pianist and the 2011 Cole Porter Fellow in Jazz)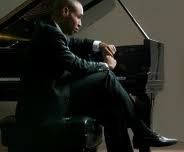 Stride Jazz Pianists keep a creative percussive beat with their left hand, while their right hand plays melody, a style that values rhythm more than playing every-just-as-written-note off a score. Stride Jazz Pianists, unlike their classical counterparts, are free to improvise within the bounds of constraint offered by the tune and the accepted rules of improvisation itself.
Sounds like transition work, doesn't it? And if it does, what do you hear?
Balance takes practice, practice, practice. A Christian Century not too long ago featured "worship," a perennial hot spot for congregations of faith. Are your conversations about protecting turf, holding onto power and maintaining historical legacy? Are they opportunities to assess both "old" and "new" against stated goals/objectives and values? Getting the "feeling of the balance between the right hand and the left hand" takes disciplined practice. It takes self-awareness, selflessness, patience, courage and grit. It takes practice. Often it takes a guide, tutor or teacher, one who already has the feeling and lives the benefit of practice.
The right practice brings balance. Describe your most recent strategy at changing or introducing an organization behavior you call [ fill in the blank]. Are you making progress, frustrated by resistance, or giving up? Why do you believe this is so? Every "cultural" shift, big or small, for the purpose of changing bad habits or embedding something completely new can succeed when leaders and stakeholders practice well. Right practice means one is "constantly obsessed." Everyone with power and authority believe in this change. Key leaders practice with one another so that they will feel it in their bones. Contrarians and late adopters are encouraged and invited but Leadership convey a this-is-not-negotiable-this-will-bring-balance conviction to their practice.
Balance feels good (and offers grace.) I acknowledge that my optimistic, glass-half-full temperament expects that, with practice and the right practice, everyone in the organization feels the benefit of balance: unrealistic, I know. Late adopters really do watch and observe and comment (for a long time!) before they try. Contrarians simply refuse, some will leave (if the change, for instance, seems too much to bear), others will stay in place. That being said:
-balance feels good. You feel it before you "know it." Everyone sways to a rhythm that speaks to the heart.
-balance makes space (or grace.) There are those who watch and wait. There are those who remain... contrarian. No need to fret; trust your practice, your right practice. "Balance...make(s) it feel good!"

Transition's balance: not stasis but creative, purposeful change. Have you noticed that balance takes constant movement (that also can look like perfect stillness), attention in the moment while attentive to "what's ahead"? Seems like making music, doesn't it? And if it does..