With present technology and social media, it may seem like people and companies are driven (or forced) to be more transparent. But really. How transparent are you being? How deep are your relationships with your vendors and peers?
We tend much to portray only the image that we want...mainly the triumphs, the likes or dislikes that we feel are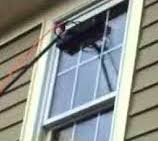 of benefit to our reputation to share.
But why not tell the whole story? Those raw emotions that made us doubt, persevere, and grow. The very truths that stretched the core of our being, that made us shed the uncertainties and hold on to what we believe and who we are.
It's easy to distance ourselves from the entire reality that is us, what made us who we are today.
I think it takes courage to be real. It takes boldness to face and expose your failures and weaknesses. But you must look beyond yourself and think about humanity. Why are you here?
Is your segmented portrayal of your accomplishments helping or hindering those who may be struggling around you? If you are only here for a short moment, and in the blinking of an eye you will be gone...shouldn't you want to help others learn and be inspired from your trials just as much or more than your triumphs?
Take courage. Be real. Tell the whole story.