Our corporate mission statement currently reads:
Design Group International helps organizations and their leaders transform for a vibrant future.
It is 13 words long, including the name of our company. It is clear and understandable. We worked on it for a

long time.
I am still not satisfied.
It is at least 5 words too long for people to easily recall and repeat.
It does not yet match the passion and effectiveness I want us to bring to the marketplace.
So . . .we have begun the process of paring it back, making it more memorable, more compelling, more powerful.
It might be argued that getting it still tighter might bring no improvement at all. Perhaps we will cut the essence away, some vital chord that holds the life of our company.
Not likely.
Not likely because when you read it, you didn't way "Oh wow." You didn't rush to share it with someone. When you mention our company to a colleague our current mission statement won't come to mind. In my view it is better to have a crappy mission statement that you remember than an excellent one you can't recall.
Here is an illustration of this important point. I live near the John Michael Kohler Arts Center. It is a magnificent place doing wonderful work. It's carefully crafted mission statement reads as follows:
Through innovative explorations in the arts, the John Michael Kohler Arts Ceter generates a creative exchange between an international community of artists and a broad, diverse public that makes real the power of the arts to transform lives and strengthen communities.
Sorry, but only board and executive staff are likely to recall this mission, and only with time taken to memorize it.
By contrast, Mary Nohl, the works of whom the John Michael Kohler Arts Center has been the curator, is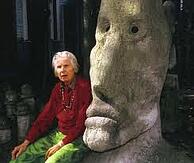 reported to have expressed the following mission for her life work:
A woman who likes tools.
Like this mission or not, you will remember it. You stop and notice it. It will influence how you see her work.
I want a mission statement like that!
More later . . . .