My recent experience at the athletic shoe store was flabbergasting.
When I entered, the young man who greeted me and asked how he could help listened intently while I described my desire to find an athletic and supportive shoe that could travel easily from a casual business setting to the gym. I wanted mostly black. This particular store had at least a dozen options clearly on display so it seemed likely he could sell me something simply by helping me browse.
He asked to measure my foot without asking for my shoe size, then asked to watch my gait as I walked in stocking feet from one end of the store to the other. Without telling me my foot measurement or sharing anything he may have noticed about my perambulation, he said he had an idea and disappeared into the back room. In a moment he was back with just one box. THE shoe apparently. It was mostly black with a large logo and was not going to work in a business casual environment. It fit. It was comfortable. It was not what I wanted and I told him so and why.
He had tuned into what he chose to observe, but he had not tuned in to me.
When he came with just that one shoe I had another shoe in my hand and I even asked him about yet another. He did not bite and he offered nothing further.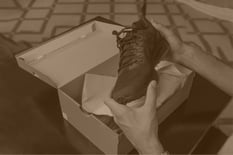 I did not need to sell him on my desire for him to sell me a shoe. I'll look elsewhere.
This blog has been used for some years now to promote the importance of process—asking questions and learning in partnership with the client. This stands in contrast with a product approach—telling the client what they specifically need and helping them get it.
A process approach does not mean that product is bad or absent. In a process approach, there are always products to acquire and use. Any new or strengthened use of a product is discerned in collaboration with the client.
A product approach does not mean that process is not present. In a product approach, there are always processes to follow, and they are best when client is listened to, drawn out, invited to clarify, and even challenged to learn in a partnership of mutual discovery.
Truth:
process and product are tied to each other. They are part of the same train.
The Design Group International orientation
is to treat process as the engine with products coming along behind as interchangeable cars, depending on what the client needs to do and wants to do.
Truth:
product is at its most effective when process is involved
. Product without process is the mere display of wares. Product without process means the method of discerning what the client needs is also a product and the client is just supposed to cooperate with the helper's expertise. Actually listening to the client gets in the way of telling the client what they need and delivering the product.
In the case of the shoe salesman who discerned the shoe I needed and made his recommendation, he was probably right and they were likely to be the most comfortable shoes I'd ever worn. But shoe size and gait were not my biggest considerations and he chose not to help me learn about them. Also, none of what I did mention showed up in what he provided except a bit of the basic color.
I was a motivated buyer, ready to buy. I provided a detailed set of what I was looking for. An almost endless set of possibilities were directly in front of me. The salesperson had to work pretty hard to lose my business. By this measure he succeeded.