I want to share with you one of the most powerful and elemental truths I have recently encountered.
It's a revelation of three dimensional proportions. What that means to me is that it cannot just be handled or experienced in passing. It has to be encountered head-on. It has to be addressed fully. The whole is greater than the sum of the parts.
This truth, as most truths do, transcends generations and situations. If taken seriously it can be applied anytime, anywhere and for anything.
We all need a breakthrough at some point. We generally have a pressing need or want to accomplish greater things. We carry a weight on our shoulders. We feel increasing pressure and desperately want to move on from present hardships to future victories.
Our minds face constant distraction. We wonder why things are not happening faster. We wonder who can help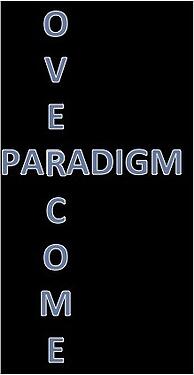 us. We wonder when the end will come. We wonder where we need to be to facilitate the outcome we want. We wonder how it will all work out.
All the while we may not realize there is an invisible force working against us. We want to blame external factors. And yet we stand in our own way. Deep within ourselves lies the problem and the solution. The greatest obstacles we face lie inside us, but how could we pursue an enemy and engage in a battle we were not aware of?
Our minds are the battleground, but do we have (and will we use) the right weapons and strategies to fight smarter and not harder?
I believe victory is possible. There is hope, and truth is our ally.
The insight I've discovered could be the catalyst we need. The truth I've encountered can help. What I've come to realize is that there are three key inhibitors that get in the way of our dreams, paralyze our progress and hinder our breakthroughs. I believe these are the core to unravel the deficiencies in our paradigm.
You may initially not see the impact these have in clouding your judgment, but those around you can attest to their power.
You and I face a real danger to be hindered, inhibited and paralyzed by:
PERSPECTIVE: Escapist tendencies that cultivate confusion and fear, distort reality, avoid self-discovery and rob us of necessary revelation, awareness and clarity. A mis-aligned perspective will leave you feeling hopeless, anxious and lost.
PRIDE: Individualist tendencies that cultivate arrogance, produce false humility, repel beneficial relationships and rob us of necessary interdependence, accountability and collaboration. Pride will leave you feeling isolated and helpless.
PERFECTION: Perfectionist tendencies that paralyze action, cultivate criticism, produce self-doubt and rob us of necessary confidence, strategy and vision. Perfectionism will leave you feeling overwhelmed and exhausted before you even begin.
How are you doing with these? Facing the truth of our condition is not easy but it is necessary.
Can you imagine overcoming these inhibitors, disarming their heavy grip, activating essential catalysts and being in harmony with all that you were destined to become? The first step to align your clarity and vision with your strategy starts within.
What is more valuable than living at peace with yourself, your family, your work and your community?
A person who agrees with himself is better than two people who disagree with each other.
Enabling the right perspective will bring clarity. Overcoming pride will cultivate the humility needed for collaboration. Disarming perfectionism should leave you feeling empowered and can refuel passion for your purpose and vision.
What do you have to lose?
If what you are currently doing is not working or is not delivering the results you want... If you are not able to flourish where you are planted, then I invite you to take time to assess your internal condition. How are you doing with the three inhibitors mentioned above? Have perspective, pride or perfection taken root in your paradigm?
It would seem impossible that we would hold ourselves captive against our own will, but I think for some of us that is the case. We are kidnapped but the ransom is free. We are imprisoned without a charge against us. Is it possible that liberty is so cheap and just awareness can set us free? I think the doors are unlocked just waiting for us to walk into our freedom.
Take the initiative to face your battles strategically. Set out to experience this self-discovery process in all three dimensions. Allow yourself to grow. Invite accountability. Cultivate community. It will require transparency, honesty and vulnerability. This is a process worth pursuing. It benefits every area of your life.
Explore full understanding of your inhibitors. Discipline, awareness and increased consciousness are key. Seek truth as if your life depended on it. Deliverance will taste sweet. Redemption will feel glorious.
Don't lose sight of the fact that you can overcome this challenge. Your breakthrough is waiting for your surrender.
Pursue peace. Welcome humility. Embrace liberty.
Welcome to a new awareness. This is just the beginning.