A growing number of CEOs participate in some form of round-table discussion. Some are half days each month, some whole days, some far less frequent. Some tie to specific industry groups, or perhaps they are an appendage of the Chamber of Commerce or local community college business center. Several of my Design Group International colleagues are privileged to be Executive Chairs for round tables like these. For example,I run one that draws across greater Milwaukee.
Phil Bergey
has launched one in Lancaster, PA.
The centerpiece of CEO conversations, wherein lies the real return on the time and money investment, is the CEO's presentation of opportunities and/or challenges and the ensuing gift of peer advice. In these real-time case studies:
The CEO presents the scenario,

After which the CEO's peers around the table ask clarifying questions, to make sure that they have a critical grasp of the central issue, related dynamics, and underlying context.

From there, they weigh in with experience, advice, and new lenses from which to view the opportunity or challenge.

When the CEO prepares and distributes information in advance, the quality and actionability of counsel they receive improves significantly. Further, when they calculate the economic value of taking on the opportunity or challenge, the motivation to actually do something about it increases.
Problem: CEOs regularly skip, and even resist, calculating economic value.
Even bigger problem: They would never accept this excuse from a direct report.
To be fair, it takes a different cognitive process to move from describing a scenario to establishing a future economic value. The brain simply has to shift into a different, more creative gear when moving from what is to what could be. And yet, this higher gear is needed for three clear reasons:
Anyone who has to work at the opportunity/challenge along with the CEO needs a common frame of reference. It is far easier to gain ownership for something that will save the company $150,000 in the next six months than it is to generically demand "something must be done about this!"

Placing economic value identifies the magnitude of pain avoided or opportunity seized. Issues become more urgent when you seek to stop bleeding $50 a day ($18,250 annually, $52,750 across three years) rather than having yet another meeting to discuss the possibility of figuring out whether there is a better way to stem a suspected but undefined flow.

Decision-making speed is improved because the quantified information is the driver rather than speculation that only leads to punting the ball..
CEOs are responsible for the future value of their company. If they will not prioritize the calculation of that future value when addressing problems and opportunities, no one will.
________________
Below is a simple methodology to calculate the economic value of an opportunity/challenge.
To calculate the value:
Is this primarily a balance sheet move, an expense avoidance, an income increase, a current cost reduction, or a way to widen margin? Identify the applicable value, calculating the difference for a month, a quarter, a year, and for three years.
For instance: An improved CEO/corporate dashboard that reduces the work of one person per day each month might be calculated as savings of $238 per month, or $2,856 per year — $8,568 for three years in personnel cost that can be allocated elsewhere.
Are there are other economic factors that improve, lessen, add, or subtract to #1? Identify them and flesh them out.
Continuing with this example: Upgraded software to make the above improvement requires a subscription of $750 a year, reducing the total by $2,250 across three years. However, the software also means another software subscription can be retired, currently costing $1,100 per year ($3,300 across three years). Increased capabilities (yet unknown) for other reporting will emerge as the software is rolled out across departments. Good news - all installation and training is included in the price whether you roll it out slowly or quickly, so there is no additional cost there. Grand total savings when new and retired costs are factored in is $3,206 per year and $9,618 across three years.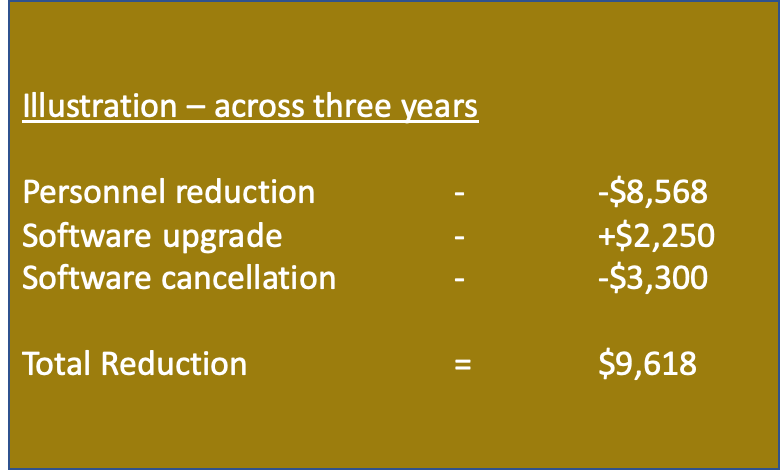 Tips:
When key players are involved in forming these calculations, ownership in and/or shared pain from the opportunity/challenge increase.

When applicable, considering any upside or downside across 3 years is a helpful standard to follow. Longer than this, too many contingencies make it an unrealistic number; shorter than this, the financial impact is likely to be significantly understated. Under or overstated often translates to misunderstood.

Taking the time to estimate the financial impact at the front end is roughly equivalent numerically to calculating the financial impact after. The difference is that doing so ahead of time — whether upside increase or downside reduction — is a positive direction. Doing so later usually becomes accounting for a heightened downside and missed opportunity on the upside. The numbers might be the same, but one has a + in front of it and the other a — .
Start earning your Certified Process Consultant credential through the PCT 101 course. This concentrated, 6-week cohort is scheduled for, July 10, 2020 - August 14, 2020. Members receive a $200.00 discount on their registration - if you aren't a Society member yet, join today!