by Mitri Raheb
Author/Title/Publisher: Orbis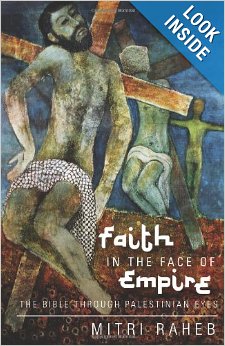 Subject area(s): Theology, anthropology, MIddle Eastern history and culture, political analysis, biblical study
Type of resource: Palestinian and Middle Eastern studies
----Ratings (1-5)----
Thought leadership = 5. Raheb is a theologian and historian. He is also a pastor and a Palestinian who was born and has lived his life in Bethlehem. He packs anthropology, history, political and social analysis alongside his grasp of religion--and it is religion which Raheb notes puts Jerusalem and all its environs on the global map. All this in a relatively little volume. Anyone working in the Middle East benefits from reading Raheb.
Accessibility of the material = 4. Notes, index and additional reading are provided. Raheb writes well and mostly keeps academic speak in check. Still, he is dealing with complex and multi-layered ideas. It is difficult to make everything plain and tightly worded.
Mix of theory and practice = 5. Raheb moves beyond providing perspective to suggesting specific action. Further, his life is one of practical action, living as one of the people who must start over all over again in the aftermath of repeated warfare.
Look and feel = 4. The cover art, depicted above, is provided by Palestinian artist Nabil Anani - a haunting painting that invites conversation as to what all it conveys. The binding is solidly constructed for a paperback, with the margins wide enough to invite highlighting and the reader's own notes written on the pages.
Engagement of the audience = 3. This book engages and informs the serious reader who likely already has a professional or experiential interest in Middle Eastern studies. Secular persons will find the theology and biblical studies informative and thoughtfully constructed. Religions persons will find their assumptions gently and provokingly challenged. People looking for an easy read to pass the time won't get far. They will keep putting it down, seeking someone out to discuss what they are learning and thinking.