Manufacturer Information: EveryThink Ltd.

Subject area(s): Planner/Organizer
Type of resource: Mobile computing
----Ratings (1-5)*----
Thought leadership = 4. Finally, a virtual planner that comes close to the paper DayTimer no-one has previously been able to duplicate on a mobile computing platform. The connections to Google Drive, EverNote and DropBox are powerful tools. But perhaps the best feature is the ability to see ToDos and calendar on the same screen. The $6.99 price isn't bad either! It is available for multiple mobile computing environments. What is missing is a version for one's computer.
Accessibility of the material = 4. Perhaps it is because so much attention was given to the GUI when using the app that it is somewhat complicated to get to the settings and make adjustments. The larger the screen on one's smartphone makes it easier to. The real material the user wants, however, is the material they put into their organizer. Accessing that works wonderfully.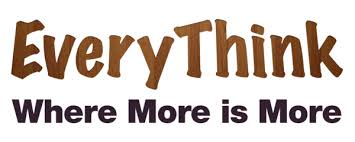 Mix of theory and practice = 5. Count me an early adopter and aggravated user of many apps and software packages, looking to duplicate the functionality and tactile benefit of my previous DayTimer, while also able to synch with my office and across multiple pieces of equipment. Yes, I want it all when it comes to the managing the intersection of time and information. This is the best I've seen, and I haven't yet reached the limits of what it can do for the way I live and work.
Look and feel = 3. I would like a little more personalization of color, font and overall environment to suit. Then how it looks and feels would be my own fault.
Engagement of the audience = 2. I didn't find the advertising or marketing information particularly engaging. What hooked me was the description of how it worked. And perhaps I fit the profile of their optimum customer. However, after working with this in both iPad and iPhone envrionments I find that most anyone who wants to organize some level of time, information and activity would find EveryThink a great tool that could take one more thing out of their bag and into their smartphone.
_______________________________
*

How we construct our ratings



1= Not registering
2= Present
3= Effective
4= Commendable
5= Outstanding