The Convene Team I chair is blessed with the perspective of several manufacturers. After some recent case studies regarding hiring and some content on millennials in the workplace, it was noted that a great deal of the content they had come across didn't provide practical solutions for manufacturers seeking to hire and engage millennials. Most of the illustrations pointed to other industries like tech, health and service, perhaps more suited to flexible hours, a team culture and a quick succession of challenges. Finding there to be a virtual des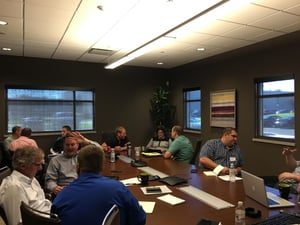 ert of ideas, we decided to gather senior leaders from several companies and pool experiences and ideas to see what might develop. What follows below is a summary of a conversation held on 18 October 2016, in Grafton, Wisconsin, at UFS.
Participating Companies:
We described some of the commonly identified descriptions of Millennials to get us started:
Tech-savvy, especially regarding social media
Relationship-based
Community-focused
Desire purpose and meaning in their work
Globally aware
Desirous of feedback
Jaded
Environmentally conscious
Title/salary not as important as access to leadership and guidance
Wish for the freedom to learn, including removal of restricitons to learning.
We conducted a Framing Exercise, taking negative traits/characteristics often associated with the Millennial workforce, and stating them as strengths:
| | |
| --- | --- |
| NEGATIVE TRAIT | STATED AS STRENGTH |
| Me-centered | Aware of uniqueness/individuality |
| Entitled | Competent |
| Transient | Gathering experiences/Value |
| Flex with me | I am flexible |
| Unreliable | Willing to be accountable to a mutually-set standard |
| Unwilling to pay dues | Willing to act right away/Big ideas matter |
| Afraid of hard work | Looking to develop improvements |
| Easily bored | Asks "Why?"/Capable of managing multiple projects |
We asked ourselves, what would success look like if Millennials were better engaged as a part of the manufacturing workforce. Our responses:
Greater access to and more visible use of tablets/apps in the work process.
Goals would be communicated consistently, and they would be inseperable from the corporate mission.
We would make results of using our end products visible and tactile.
We would immediately express appreciation for good work perfomance. This would be systematic, sincere and company-wide, not just targeted to a single generation.
We would use each other's names, and do so respectfully.
Paid volunteer time would be available, for example: 48 hours per year.
We would have team-based processes.
Our organizations would be flat.
We would tie effort and efficiency to company goals, and measure those as part of how we determine company effectiveness.
We asked ourselves what we would do if there were no obstacles:
We would hold monthly/quarterly "How are we doing" conversations with our entire workforce.
We would celebrate wins together as an entire workforce.
We would let employees choose their own title and create their own business cards (within reason).
We would let employees identify and set their own goals.
All the positions in our companies would be results-based.
We would have a Burger King day ("Have it your way")
Our employees would contribute how we structure and report regarding bonuses.
All employees would have flexible hours.
We would cross-train people based on their interests.
Everyone would be A+ talent, or being developed in that direction.
We identified next steps we are willing to take:
Build in deeper communication of "why," not just in individual supervision, but in groups/teams, and corporate-wide communication.
Begin to tie individual goals to any bonus structure.
Create peer teams, especially in regard to projects, processes and even shifts and manufacturing runs.
Connect corporate values more deeply in the interview process, not just in seeking alignment, but in communicating who we are and how we operate.
Review and adjust how we do evaluations: are we evaluating by behavior rather than age?
Begin to hold "improve our business" sessions with employee groups.
Make whatever we do pervasive and systemic, not just yet another initiative we cheerlead for awhile.
Begin developing the business case for our actions--anticipating and answering questions as we get started, and not just when they are brought up. We will make better decisions in general if we do this.
In the months to come, I look forward to hearing how this important conversation is being lived out in these forward-thinking companies, finding ways to make the future welcome on manufacturing floors just as much as in the office or board room.