My
previous reflection on long-sight
generated a number of responses. Some of you who responded spoke of inspiration. Others of you pointed out that long-sightedness pushes a person beyond
moral relativism
toward something they understand as eternal wisdom or truth, at the very least reflecting a solid, ethical center.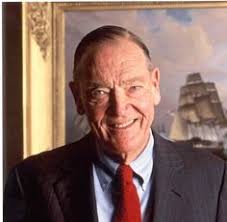 Let's add to this inspiration and underline the long-standing values underlying long-sightedness by pointing to the example of
Jack Bogle,
who passed away in January. If you hold any sort of indexed mutual fund or have experienced any benefit from these years of low inflation, you have him to thank.
When Jack started Vanguard Mutual Funds in 1975, it was to a lot of naysaying. Yet, his revolutionary indexed-fund approach drove down the cost of investment and transactions, helping many of us enter the market as investors when we could not have done so previously.
In the first five years, Vanguard Funds attracted just $17 million, adding to the eye-rolling and tongue-clucking of economic sophisticates. Now, it is reported that a sixth of stock market value is held by indexed funds like those Jack started. The New York Times reported on how
this investing approach drove down costs everywhere,
making a significant contribution to low inflation that we all enjoy.
Bogle's
investing values were anchored in the long run.
He was insistent about this, contentious and argumentative. His patient approach grew from and came after earlier experiences with heart disease in his thirties (he lived to be 96). He regularly gave half of his salary to charity, benefitting people like us that he would never meet and long after he was gone.
Long-sightedness and long life that continues to bring benefit to you and to your children and perhaps even to theirs: let's imagine such a life for ourselves and the organizational missions of which we are stewards.
Founder/Design Group International