Today begins the 2014 annual conference for Design Group International. For the past couple of years I've given a state of the company presentation. As a result, we time the release of this blog post until after that session is over. We wouldn't want to give anything away!
I'm pleased to describe our company as strong and focused. We've worked hard to build our distinctions as a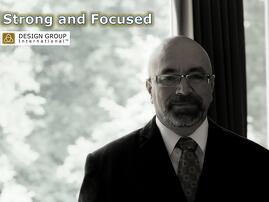 process-centered and client-focused organizational development company, built on a platform that helps consultants love their work as a vocation rather than as a means to troll for another job. We are approaching 30 clients in any given month--enough to keep us stable and looking forward, and not so many that we lose our way in offering an individualized and contextual approach. Most importantly, we keep deepening and widening the experience we can draw upon in order to help clients transform for a vibrant future.
I want to inspire and deepen the affection for affiliation with Design Group International as I give this talk, and to do it without lecturing or preaching. What I want is a conversation that deepens our collective yearning to help others build organizations where human beings flourish (investors, employees, customers/clients, and generations to come). We stand in great need of leaders and organizations with such vision, especially with all the creative, greedy and destructive forces tearing up planet earth.
To do this, we have to keep learning, never tiring of personal growth so that we in turn can offer wisdom--a wisdom that almost always begins with the words "I don't know, please tell me more" rather than "That's easy, listen to me." To that end I plan to close with these words from the writer/philosopher Eric Hoffer: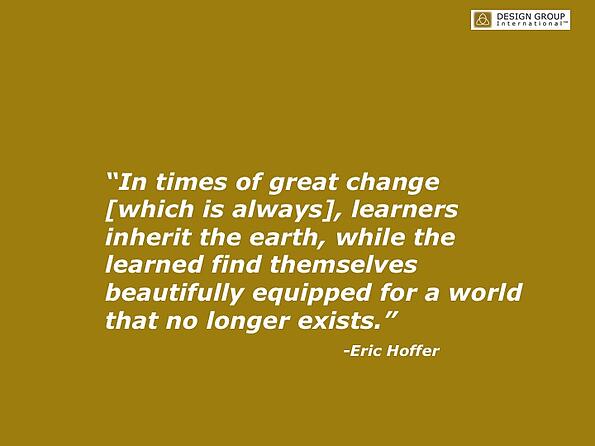 We are strong and focused, increasing in depth and width, and never done gaining wisdom. I'm privileged to associate with these my learned and learning colleagues. I look forward to introducing even more clients to their strengths.