Publishing Information: Flawless Consulting (3rd ed), by Peter Block, Jossey-Bass, 2011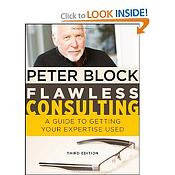 Subject area(s): Organizational Development Consulting, Consulting, Small Business, B2B enterprise
Type of resource: Guidebook
----Ratings (1-5)*----
Thought leadership = 5. Peter Block distills consulting to its essence while covering material comprehensively. Learning happens in the text, in the visuals, and even through the thoughtful book design of providing wide margins so the reader can insert their own notes. A particular advance for the consulting field is the robust discussion on boundaries--where the client and where the consultant begin and end.
Accessibility of the material = 4. Block is extremely skilled at holding the reader's interest while going in-depth. The book design, use of visuals and use of humor, make it possible to bite off the book's material in chunks, consider and then act on its application, and then return for more helpful material. Business owners and managers who make use of consultants will also benefit from Block's insights as they hire and want to benefit from consultative expertise.
The book is expensive and used copies are hard to come by.
Mix of theory and practice = 5. Block is not academic in the presentation of underlying theory, but thinking about the why and what of consulting is every bit as present as the how. This is a well-balanced book that sets the bar high for anyone else wanting to make a unique contribution to the subject.
Look and feel = 5. It is noted already that the book is well laid out, giving it a guidebook feel. Career consultants will find it worthwhile to get it with a hard cover as they will return to it again and again and may appreciate the ability to late it flat open.
Engagement of the audience = 4. The style is informative, light-hearted, gracious and wise. Business owners, consultants and those with even a mild interest in using their expertise in some way will find this to be one of their best investments in understanding and implementing flawless consulting.
_______________________________
*

How we construct our ratings



1= Not registering
2= Present
3= Effective
4= Commendable
5= Outstanding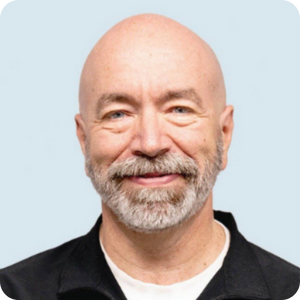 I walk alongside leaders, listening to understand their challenges, and helping them lead healthy organizations that flourish.