Conventional selling is hard. Collaborative selling is smart.
Have you ever felt flustered with the challenges that come from selling by yourself?
The return on your time investment when trying to grow business through your own efforts may be depressing at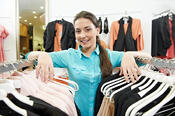 times. It doesn't have to be so.
We should all carry our own weight ... but why have excess weight when it can be alleviated by leveraging by collaborative branding efforts that allow for strategic exposure with your target audience?
Before I share my strategic sales model, I want to let you in on some important variables to consider for meaningful progress with your professional relationships.
1) Even if the sales cycle for your product or service is short, your clients need to feel at ease. Make sure you are not coming across like you are rushing through your time with them. Plan ahead to address their concerns, fears and objections.
2) You will want to make sure they understand you care and are offering suggestions that will truly help them. They want to feel like you are with them for the long haul. And this brings us to an important question. Are you?
3) Life is too short to invest skills and talents into promoting products and services you care nothing about. Are you representing an organization and line of products you would would want to be a customer of yourself?
Clients and colleagues don't want to waste time establishing relationships with someone that is clearly passing through.
When you are working within your passion, have clarity about your vision, understand the responsibility of your influence, and are willing to sow seeds for both short-term and long-term benefits, you can genuinely and easily express your commitment for mutual success in any relationship.
Are you ready to sacrifice a little to gain a lot?
Blessings,