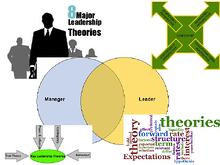 In the Steward Leader class I teach for Christian Leadership Alliance and University College (formerly Azusa Pacific Online University), we examine and discuss the ins and outs, ups and downs of a great number of leadership theories. In a recent online conversation we noted that virtually all of the leadership theories get distorted and diluted once people start claiming them as their own. The tendency is to read about them or attend a workshop and then claim understanding and use rather than integrating these theories into a coherent operating theory of one's own. In short, people are often consumers of theory rather than users.
In the sessions I teach we try to drive people to their own articulation and use of their theory rather than a "mere recognizing" of someone else's articulation.
Perhaps a good illustration of this is sitting down to watch a television show only to realize you've seen it before. Just because you've seen it before doesn't mean that you wrote or memorized the script! Neither does it mean that you remember everything about it or even how it ends. It just means this is territory you've seen before. It is vague recognition rather than deep familiarity to the point you can extrapolate from there. My brother and I and a few friends knew some of the Monty Python episodes and movies with that kind of familiarity--not only able to recite the lines but also able to quote them ironically -- finding new applications and deeper humor in interesting situations. For instance, a silly demand from someone in authority might bring the line, we want (wait for it)....a shrubbery!
Our consumer oriented culture comes into play here, because we tend to consume theories, and their related materials, hoping that something absorbs and sticks, rather than deliberately and reflectively integrating them.
So, whether you start with Theory X/Y, Transformational, Strategic, Situational, Servant and Steward Leadership, the work of putting it into your own words, putting it to use, evaluating and building upon it with an eye to be an ever better leader, needs to be completed.
By the way: I begin teaching the Executive Leader and Money 9 June 2014.