Let us admit that the temptation in the cartoo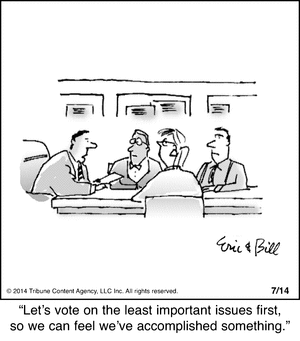 n at right is faced by executive leaders everywhere!
Just as soon as someone is named to the CEO role they receive a greater deluge of e-mail, a greater number of people who want to meet them and draw on their expertise, and a temptation to dive into thousands of tasks that scream for attention.
This combines with the human need to feel significant and to receive reinforcing feedback that we are making a difference.
The temptation to focus on easy tasks that provide that feedback grows with the new pressures. The temptation to talk while people listen attentively also grows. It feels like something is being accomplished, even while the e-mails keep piling up and the number of people wanting to meet keeps growing, because the most important matters are neglected.
"No," becomes the better and more useful word than "Yes" once someone shifts to the CEO role. But "No" has to be expressed as "Yes" for other people to whom the tasks should belong, and who should not be abdicating their roles because an uncertain, unfocused CEO makes things uncertain and unfocused for them.
To that end, as a CEO myself, I'm finding that my list of Don't Dos is more important than my list of To Dos. And by getting that straight, I'm more focused, more productive, and noticeably better in my role.
Similar stuff:
Insights from CEO peer-based advising.
CEO peer-based advising. The value.