Celebrating a lady:

25

30 years with Lorie Vincent
OriginallyPosted by Mark L. Vincent on Mar 23, 2009.
In our change to a new site format this blog post was removed celebrating 25 years of marriage. I re-publish it now in celebration of 30 years of marriage and in restating my commitment to walk with my wife during renewed treatment for cancer -- now 18 occurrences in 15 years.
____________________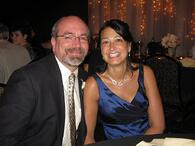 No-one has had a better and more dedicated wife than I have known. No-one. I am fortunate to be married to her, and to bask in the love of all the women of her family. Count me among all those who know the joy of monogamy and all the freedoms that come from the helpful boundaries it provides.
This year, we celebrate 25 years of marriage. 10 of them have been marred and paradoxically aided by her agonizing bout with cancer. Lorie, I would do it all over again and this blog is my public proclamation of my undying love.
Throughout the years, I've written a number of poems for her, including several musical pieces performed at our wedding. Continuing in that tradition and with the hope that the inspiration offered might benefit others, here are two more that celebrate this lovely young woman I've known.
Ancient Bones
If sunshine were water,
and wind blew mountains high.
Should mustangs whinny nursery rhymes,
and mother improve on pie.
'Twould be the start of special somethings,
memories of winsome tones–
Like youthful love,
flowing warm in our ancient bones.
-------------
Ode to a Kiss
Let's do that thing that humans do,
pushing lip against a lip.
Plant those russet reds upon me
and let me take a sip.
How I love that pressure
of your nose pressed into mine!
How I love that sweetened suction!
How I long for that next time!
So come here lover lady.
Kiss me and then repeat.
Let's find each other at the junction
where our two faces meet.