Three questions keep coming now that the book Fighting Disease, Not Death: Finding a Way Through Lifelong Struggle is available. We decided to post our responses here as a means to answer them more readily.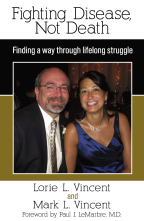 Q. I was disappointed with the lack of detail regarding the actual physical suffering and medical detail. Why did you keep it so short and simple?
A. We know that people who are struggling often have little time to read, may have a difficult time concentrating and are often given books that either: (a) detail the graphic nature of suffering or (b) tell the story of a person who isn't suffering any more. In many cases neither of these types of books are helpful because (a) who wants to compare the degree of suffering when one suffers? who wants to win such a competition? and (b) when one is suffering the story of overcoming may not be helpful. What is often needed is the hope that one can bear up and survive within it.
We could have included stories of projectile vomiting, moments when healthcare provision was not at its best, and a cataloguing of the different types of stool one has when going through chemotherapy, but we did not write the book to relive those moments.
Q. Did you self-publish this book?
A. No and yes. Design Group International developed a publishing arm several years ago and has published such titles as: Swimming Upstream, The Ministry of Development and Speak Ye First the Kingdom. With each of these, we worked with Dog Ear Publishing, a company that specializes in both Print on Demand and Self-Published works. In this case, however, they were working with Design Group International and Design Group International was using a full-blown editing process as any other publishing company would. We simply like the idea of being able to be in the entire economic stream so that we can exercise more creative control of the material we make available to the people and organizations we serve. As two of the Senior Design Partners of Design Group International it made the most sense to use the publishing process we had already developed.
Q. Some of the press releases say Lorie is the longest-lived person with leiomyosarcoma. Is this really true and how do you know?
A. This is not an accurate statement. I (Mark) had the chance to approve the wording of the press release and obviously did not check it thoroughly enough. The original, inaccurate statements have been changed in the press-release and on the website www.fightingdiseasenotdeath.com.
Here is what we said in the book from which this misunderstanding arose:
"Lorie is now believed to be the longest-lived person with the metastatic disease." p.46
"She has endured sixteen occurrences in the past twelve years and is believed to be one of the longest-lived persons on record diagnosed with this form of leiomyosarcoma." p.98
We hope to meet people who have lived longer than Lorie and who have endured through even more occurrences, not because we wish them ill, but because we would take hope from them and keep on fighting disease,not death.
-mark and lorie vincent