Design Group International's growing list of satisfied clients includes Fortune 500 corporations, a host of ministry organizations and a variety of other nonprofits. Our fastest arena of growth is in business. The largest arena currently is with religious organizations, primarily Christian.
Given our growth we would like to think we are doing something right. Still, these two questions come to us repeatedly.

* Aren't you too religious?
* Aren't you too secular?
Sometimes they are expressed as statements instead of questions:
1.) We want consultative assistance from an organization that has no religious agenda, and we suspect you do.
2.) We want consultative assistance from an organization in synch with our religious values, and we are not confident you match.
North American culture is increasingly polarizing around these issues. Choosing a side to this polarity is an option some will choose, but our approach is to foster a more thoughtful, helpful and healthy path. We would rather help leaders and organizations build new and deeper levels of community internally with employees, and externally with current and future customers/clients, than watching them lop off entire pieces of a potential marketplace because of cultural, political or religious differences.
Still, no-one can be everything to everyone. In our case, the Design Group International mission might sound broad because we love the cross-fertilization of working with and learning from varying stripes of organizational types. Note please: there is nothing in the previous sentence that restricts or demands any amount of secularity or religiousness. Still, there are places we will not go.
Because we are asked these questions so often, those who operate Design Group International, our Senior Design Partners, spent some time defining the boundaries of the organizations we are suited to assist. Here is the resulting diagram: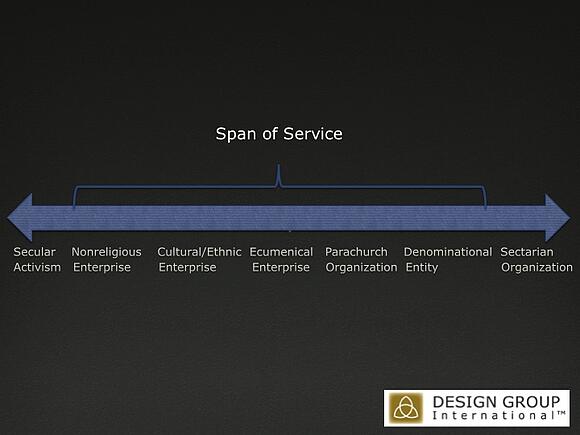 The continuum runs from organizations that promote secularity to the exclusion of other world views, to the religious sectarian organizations that promote their values as superior to all else. Our span does not extend that wide, stretching from organizations that have no religious connection to those that are steeped in it, especially those seeking to provide helpful products and service while making the way for generations to follow. Leaders and organizations that reinforce polarities are the ones to whom we say no.
We discriminate just as easily between organizations with a mission and those without, or organizations that seek nothing more than increased cash flow (nonprofits are just as capable of being unscrupulous) and those building a meaningful legacy. Discernment in these matters is just as important to us as navigating the secular/sacred polarity.
Returning to the subject, are we too secular to suit some religious leaders? Does our connection to religious organizations make some ardent secularists uncomfortable? Of course. Remaining thoughtful and maintaining depth perception remains a considerable asset even if the angry and frightened extremes consider it a liability.