Organizational Development: Living on Top of the Hill
I live above the Sheboygan River where it flows through Sheboygan Falls (aptly named as you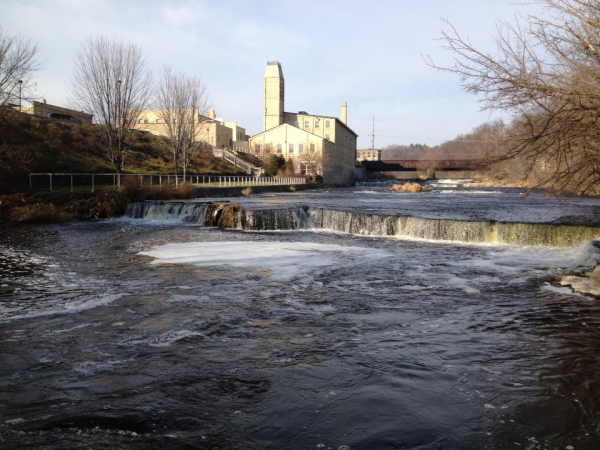 can see from the photograph), and then curves around behind the bluff where my home sits to flow through Kohler, Wisconsin. The bridge near the mill pictured here is one I often walk across to go to church, meet someone at one of the restaurants, or even to pick something up at the famous Evan's department store (they seem to have one of everything).
Most times of the year, the falls are musical and scenic. For the past two weeks, however, given snow melt and extensive rain, the falls have given way to a roaring torrent as one can see in the videos below.
The river has overflowed its banks, filling up the meadows at the Kohler Horse Stables below my home, flooding fields and low-lying garden plots, making them wet and unusable for weeks to come. Because I live well above the river I could choose not to notice the changes or to think about how they impact me. Because I walk into town frequently, however, I cannot help but notice and be stunned at the power of the changing, charging, roaring river.
2nd video can be accessed here.

Walking across the bridge during the torrent's peak, I found myself reflecting on the parallels to organizational development. All too often leaders, board members, executives and top-level managers (shareholders too!) are high above the fray in their dry places. They are focused on top level numbers and overall trends and might be too removed, too detached, to notice fluctuations such as employee burnout and turnover, root causes for inventory creep, even the natural flows of the market. As long as most of the time everything runs picture postcard perfect, they become insensitive to what happens further downhill and downstream. By getting out and walking where the action is, they can get a better, real time and visceral feel, and offer corrections earlier than when it shows up in aggregate numbers and corporate dashboards.
So, yes, I am all for management by walking around. And yet, just walking around is a problem too, because then one only notices the fluctuations and the details rather than maintaining overall perpsective by climbing back up the hill to get the lay of the land.
In the end, as with so many dynamics of living and working, it is a matter of balance. Leaders need to view matters from the top of the hill, but it is good if they do so with muddy boots.