Click the above link for even more from Design Group International
___________
Event Participation as Steward Leaders: a Long Term View
Here is the short term view: "I have to get through this conference so I can get back to my real work. I wonder if I can slip out and catch an earlier flight home."
The long term point of view says: "I am going to arrive early and rested, mingle at all the meals and breaks, never eating alone. I will be one of the last people out the door, taking a moment to thank the conference organizers."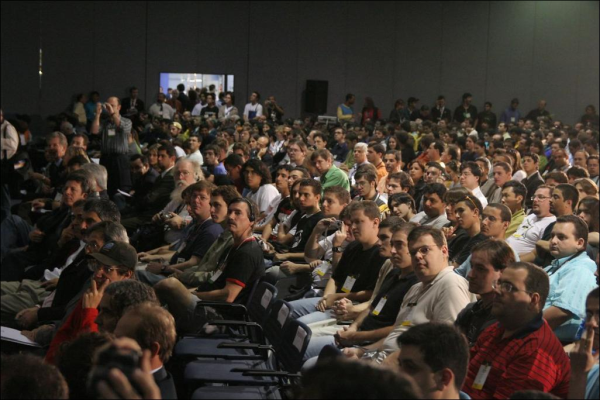 If you are a vendor, and especially if the conference reflects your area of expertise, take some time to reflect on the following questions and determine whether you prefer the short or long term point of view.
1.) Which approach is likely to yield the strongest network of relationships?
2.) Which approach is likely to add the most contacts to the top of the sales funnel, or better yet, move them from the top to the middle?
3.) Which orientation creates the most possibilities that you could not foresee?
4.) Which approach is most likely to build brand recognition, product understanding and memory of your name?
5.) Which choice helps you steer toward the people you want to meet?
6.) Which of these two creates more opportunities to develop new clients and expand upon current relationships?
7.) Which choice helps you bring value back to your organization?
Those who come early and linger late tend to be excellent networkers and those who hold program responsibility. You are helped by meeting and linking to these people. It is our experience that lingering creates significant opportunity.
ADVANTAGE: You might be among just a few or the sole remaining vendor when someone finally "gets it" and wants to talk.
ADVANTAGE: You are a better listener when you are not in a hurry.
EXAMPLE: We lingered on at the end of a recent event where we were a vendor. We estimate that 40% or more of the attenders left prior to the last session. All the other vendors were already torn down. Five persons came by at the end. Only five, but what a five they were:
1 person purchased materials.

1 person confirmed a new project.

2 persons expressed interest in exploring the possibility of pursuing a consulting career.

1 person commissioned an article for their publication.
These five conversations at the close of the event exceeded the results of all the other conversations during two previous days of participation in the conference.
Of course, more conferences exist than any one person can attend, absorb and then apply information. The argument here is to make the most of a few rather than attend many. And, if you must leave, it may be better to skip out of a plenary session in the middle than to arrive late or leave early.
Perhaps it seems a far stretch to equate lingering with a steward leader approach, but let's not forget the focus on relationships and the long-term point of view that comes with the choice to be a steward leader. If leadership is not about me but about the people I develop then it follows I would make the most of each opportunity to see and be seen, meet and be met, befriend and gain friends.
This has not been an easy lesson for me to learn, but learning it is making all the difference.