Buyer personas--a profile created around the customer or client an organization wants to serve--seems to be gaining traction. Two resources we've found helpful are:
11 savvy ways to use buyer personas to strengthen your marketing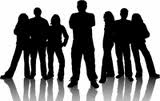 We are adding flesh and bones to our personas -- what we are calling client personas -- throughout the next year. We know we have three basic personas, all of whom are organizational decision makers and face complicated decisions about the capacity of the organization and staff to accomplish a mission:
Executives and board members, usually responsible to lead a multi-layered system of divisions, plants, chapters, sites, franchises, congregations, or associations. Their organizations are usually national, international or multi-national in scope. They need breadth of resource, every bit as much as depth of resource. They may take a long time to decide to initiate a project and have a shortened and divided attention span among the many demands they face. They agree to move forward when there is proven methodology, a trusted relationship, and assurance they remain in control.
Business owners and executives, of these divisions, plants, chapters, sites, franchises, congregations or associations. Their organizations are usually regional or local. They usually seek expertise (depth) of a specific resource, rather than breadth that touches a whole organizational system. They agree to move forward when the plan fits a budgeted amount, when there is significant recommendation from other sources, and with assurance their competence is not being challenged.
The executive leader as a person separate from their organization. They often face a personal or organizational challenge that tests the limits of their capacity. Often, they are considering what is next in their career and need to manage some personal challenges along the way. Sometimes, it is their board or supervisor who connects them to us, believing the career of a talented person is threatened without some coaching. This person may or may not want the relationship with us, but the relationship needs to work and they know it.
These are far from robust descriptions. Our next steps will be to invite our consultants into a longer and deeper conversation that adds dimension and flesh to the persons we serve best.
Any organization that develops client, buyer or customer personas should find it easier to explain their products and services to the people they want to reach. We want more out of this exercise. We want to strengthen our effectiveness at helping organizations and leaders discover clarity and implement solutions.