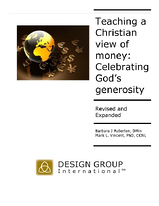 The original was a key volume among those produced by The Giving Project, which I led from 1995-2000, and involved a variety of Mennonite, Presbyterian and Uniting church groups before it was over. The original work proposed that seven areas of a congregation's life provided the settings where understandings about generosity could be embedded and effectively passed along. A whole host of resources were included, from worship tools to narrative budgets to outlines for congregational retreats.
Barbara Fullerton, one of the original Giving Project consultants, took these resources to their next level as part of her doctoral work, testing what really worked and the measurable effectiveness of those tools, from which she proposed an adjusted schematic for Teaching a Christian view of money. Thanks to her vision, we've been able to demonstrate that this systems approach to teaching generosity is effective, long-lasting and a real contribution to the field of stewardship studies.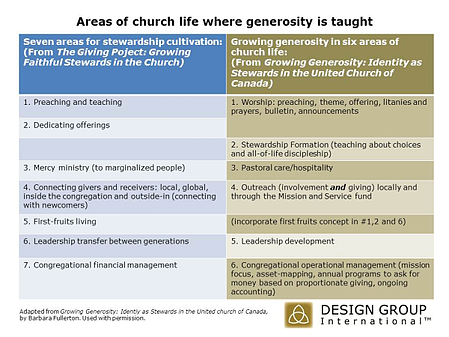 Her doctoral thesis attracted a lot of attention, including presentations to national offices in both Canada and the United States. The benefit is that we collaborated over the past two years to update the manual (I'll include some excerpts in future blog posts), and we were able to celebrate its release at the recent Leadership Seminar of the Ecumenical Stewardship Center.
The original manual cost $39, but congregations could make as many copies as they wanted for their use. The revised and expanded version provides considerably more resource for congregational leaders, but costs only $25--a real benefit in this age of digital publishing. And as before, congregational leaders can make as many copies as they wish.
A license for middle judicatories and denominations is also available, reducing the price to as little as $1 a congregation if at least 100 congregations are involved.
This resource is available from two locations:
A resource like this is best used when it is printed out, put in a three-ring binder and divided by section so that a congregational leader can insert additional resources that related to each of the six areas of congregational life. Woila! a filing system that can be consulted often and passed along to successors (if the congregational leader can bear to part with it). I'm doing that very thing and am suspiciously close to needing a second binder.