Preaching through Jonah has put me in touch with the parallel between his life as God's servant and any organizational leader's temptation to do what comes more easily, more comfortably, more conveniently, and according to one's preferences rather than from commitment to an external mission.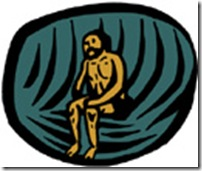 At his best, Jonah wanted to carry his deep prejudice into his role, preventing him from embracing healthy, fresh, even divine perspective.
At his worst, he was willing to face death and total separation from God rather than do what God directed.
Jonah is a portrait of a leader who thought he knew better, who thought he knew everything, and who sought to lead via his own competence rather than through the competence of others, including the authority that governed his life. He was more prepared to be wrecked than to be a leader subject to external authority.
This is not advocating for an organizational leader to pretend ignorance or to be something less than confident. Rather, the organizational leader who does well is one who is in awe of what they do not yet know, respectful (or at least interested) regarding where they have not yet travelled, and prepared to be knocked-over surprised by where the mission will take them. They bring what they know to what they do not yet know, letting the latter inform the former. It is a good skill to learn, helping the leader catch the big fish instead of being eaten by one.