BizTimes Milwaukee recently reviewed Arianna Huffington's book Thrive, where she recounts her story of learning to balance life better after nearly working herself to death in building her business.
This is just one of the countless examples of work/life imbalance and how the 50-something executive leader finally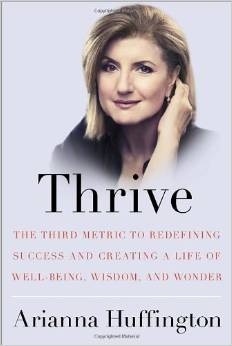 hits the wall of regret that they abandoned their spouse, sacrificed something of their children's successful upbringing, destroyed their body (no matter how rigorous they were in trying to remain physically fit), or neglected so much of what could have been--all in pursuit of a stronger CV, a larger domain in which they could exercise power, the victory of having crushed the competition, or a greater measure of wealth. Striving for everything they found they held....nothing.
It makes one wonder whether this lesson could be learned earlier, and if so, what that would mean for the enterprises such leaders run, as well as the bright lives such leaders might enjoy. This is a deeply serious question as both millennials and women moving into business leadership seem to show a stronger preference for life balance and sensibility. This leads to a slew of open inquiries.
Will an enterprise that expects work/life balance get crushed by competitors that demand the worker's sold-out soul?
What is even meant by work-life balance? Is this a matter of integration or creating boundaries between the dimensions in one's life? Do different personalities and/or skill sets require different approaches? Has anyone sastisfactorily studied this?
Will investors accept slower, more organic growth to business, at least as one dimension of their investment portfolio?
Can a currently high-octane and politically-oriented organization transform into a supportive community without losing its jazz?
Will financial analysts start including a reliable metric that measures the cost of recruiting and onboarding new employees vs retaining them? (Many organizations who say they track this measure do so as an HR function rather than as a financial performance measure)
If this conversation catches your interest I'd love to hear from you.