First published in 2005 in Depth Perception - a pre-blog publication of Design Group International
An Ode to Money
If money makes the world go round,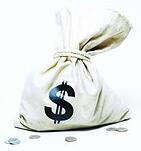 then it is the reason I'm dizzy,
I'm overworked and spent afore earnt,
frantically spending a-tizzy.
And if money does not grow on trees,
then no wonder it's a labor;
working a lifetime to earn for me,
with hardly a cent for my neighbor.
And if money can't buy happiness,
of course I am sad about this.
Gave time to earn it, all too quickly burnt it,
strangling my eternal bliss.
So I live in and of this world
connect to all its facets.
I must say I'm quite glad for grace
'cause I've slipped and fallen on my assets.