This past week I complied with a request to write an endorsement for people who are considering facilitating a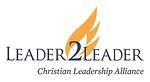 peer-based advising team for executives, especially those recently developed by Christian Leadership Alliance for nonprofit and ministry executives. In the past year, Christian Leadership Alliance launched Leader2Leader groups in Colorado Springs, Dallas, Atlanta and Eastern Wisconsin (the one I'm privileged to facilitate). More are coming in 2014.
Here is the endorsement I provided:
Facilitating an L2L group is like a sacred invitation to witness birth, again and again and again. Executives are isolated and trapped in their way of thinking that made them successful previously. They reinforce it every time they say "No-one understands what it is like" or "My organization is unique" or "My stake/shareholders will never go for it." Over time they become accustomed to saying it without reflecting on reality and the action needed to face it. Peer-based consultation provided by L2L, where persistent, consistent and confidential work on personal and organizational excellence is a place where transformed thinking and resulting action are birthed. Repeatedly. What higher use of one's gifts can there be?
While I wrote this for Leader2Leader, it reflects how I feel about facilitating any quality peer-based advising program. I can't find a resource that compares to the impact most groups bring to their executive team members. I live in the heart of Vistage country (previously called TEC), the grandparent and originator for all

such groups. Many of the executives in my area are members of Vistage teams or have been. I have yet to meet anyone who felt it was a waste of their time and investment, and I've held a lot of conversations and drank a lot of coffee as I recruited the business owner/CEO team I lead for Convene in eastern Wisconsin, yet another expression of peer-based advising.
I am happy to hear from any executive leader who wants to work on their personal and organizational excellence in a peer-based advising team. Perhaps I can help you get connected to the team suitable for you.