Be Strong and Courageous! Choose to Live. Pursue your Dreams. Lead your your heart, do not follow it.1 Choose in every way to give life, and do not take it. Purpose to bless, and do not curse. When in doubt go against the current, do not let it turn against you.
May your eyes carry a sight of AWARENESS, may it be your light. May your mouth host words of TRUTH. May your mind be driven by CLARITY and your neck bring forth a framework of HARMONY.
May your heart be consumed by GRATITUDE and your soul be enveloped by HUMILITY. May DISCIPLINE be in your right hand and GENEROSITY on your left. May FOCUS gird your right loin and COLLABORATION your left. May BOUNDARIES protect you and VISION be your strength.
May PEACE be your covering and LOVE your garment. May FREEDOM be your anthem and LIBERTY your banner. May PURPOSE drive you and PASSION fuel your steps.
May these virtues be yours today and always!
Blessings,

Written as an inspirational supplement for my Breaking ThroughTM process toolkit.
PS: For a peek into the sketches that brought these words to life, take a look at this photo: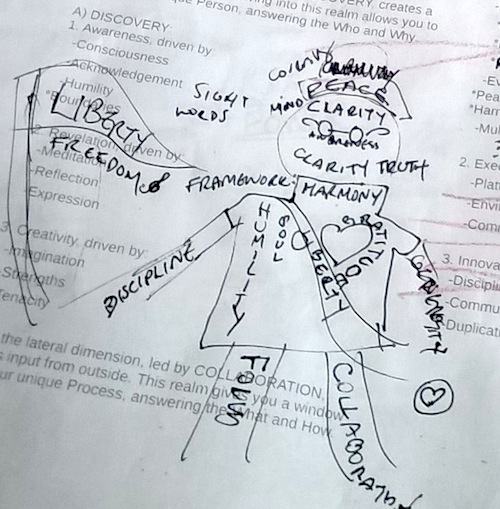 *1. Lead your heart statement was inspired by The Love Dare book by Stephen Kendrick, Alex Kendrick, et al.