Joy Unspeakable is the newest Preferred Provider to Design Group International, specializing in conciliation, mediation and educational advocacy. It gives us the chance to introduce you to Sandra H. Quick, founder of Joy Unspeakable, after a long career in educational administration.
1. You have significant experience in helping people work through conflict. When did you first become

interested in this work and why has it become so important to you?
In addition to my father teaching me what it takes to have self-control to work through conflict, I've been interested in helping people work through conflict since junior high school. I started as a junior counselor with kids who got in trouble, listening to their stories and helping them work through anger issues and home problems. After graduating from college early as a teacher, I was assigned to an inner city 9th grade English class that had run 8 teachers out on their ears and it was only January. I got the class under control and by February, the main rabble rousers were lead actors in my Black History play.
Six years later I was a middle school Assistant Principal, and over time promoted to a High School Principal. Then came an assignment to be Director of Customer Relations/Ombudsman for the entire school district. When folks called the Superintendent or School Board President, the caller would be routed to me. My job was to find solutions to each problem, even though many of requests were unreasonable or even unlawful. Nevertheless, I kept working it out without backlash to the school district. While in this position I asked God why he placed me in this horrible position (I had refused three previous times when I felt God telling me to take it). God said "Learn everything you can here, because you are going to use these skills for MY kingdom." So, I am obeying God's calling to me.
2. Church folk claim to have experienced reconciliation with God. Why then is there a need for conflict resolution work within congregational systems?
There is a difference between conflict resolution and Christian conciliation. I do either, depending on the venue. Conflict resolution is the secular side. I use some of the same skill sets and techniques and basically the same 7 step process. In conflict resolution the emphasis is on the conflict and the resolution of the problem. However, since the focus is on the problem, people tend to use family of origin responses such as attacking (peace breaking) or escaping(peace faking).
God's Church is called to Christian conciliation based on Colossians 1:19-20. The four distinctive of Christian conciliation are
the centrality of Christ,
the responsibility of the Church;
the necessity of Biblical Counseling, and
the comprehensiveness of God's Word.
The key to changing the way we deal with conflict is the Gospel, the good news that God made peace with us and between us by sending his Son to die for our sins and give us new life through His resurrection.


When we believe in Jesus, we receive forgiveness and are united with Christ and one another. God then begins to transform us into the likeness of his Son, enabling us to break free from sinful attacking and escaping responses/habits and mature into peacemakers who reflect the glory of God's reconciling love in the midst of conflict. This is peace making.

In short, it's not about the problem anymore; the emphasis is on our relationship with Christ and His Church. The definition of peace that I use is "Peace is a resting place for your will, that results from an assurance about God's will."

My calling and mission is to Build a CULTURE of Peace, not just teach peacemaking and/or facilitate conflict coaching/ negotiations/mediations/arbitrations. It's about process. You can learn more about that process here.

3. You are known for work in cultural awareness as well. Where do you find intersections between these two areas of expertise? How do you address them?

The definition I use for conflict is, "Conflict is a difference in opinion or purpose that frustrates someone's goals, desires and/or interest." The short version is:

conflict = differences + tension.

You mentioned the term cultural awareness. I build upon awareness toward higher heights. Please see the graphic below: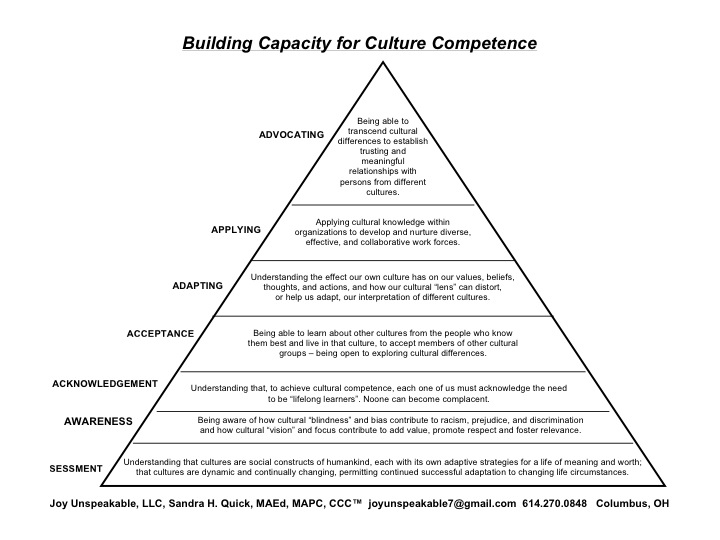 The Building Capacity for Cultural Competence process is not complete until one reaches the advocacy realm. The foundation is assessment and assessment builds to awareness, and awareness builds to acknowledgment, and acknowledgement builds to acceptance, and acceptance builds to adapting, and adapting builds to applying, and applying builds to advocating. Until one is willing to go out and fight for the cause against someone else's goals, desires and/or interest, they remain at the awareness level. What do you think the 1960's Civil Rights Movement and Cesar Chavez and the Farm Workers Movement were about? Conflict for the cultural cause is the same as differences plus tension. There is less than a frog hairs' gap between these two building models.
4. What adjustments must you make when working at conflict resolution and cultural awareness when you are with non-religious groups? Is there any difference at all?
I teach principles. I facilitate the process using the same principles in both groups. For example, Golden Rule 101: If you want to get respect from Sue or Bob, you have to be willing to give them respect. My examples, interactive case scenarios and reference sources are customized to the client and venue. I know where the center line is and I stay in my lane.
5. What does an ideal project look like for you when you are working with a client? How would your client recognize success?
I've never seen an ideal project! If it existed, the ideal project would start with four sessions of teachings about the building models, Building a Culture of Peace or Building Capacity for Cultural Competence. Next would be identifying those who need individual sessions to reconcile relational or professional differences, and then to facilitate those sessions via conflict coaching, pastoral counseling, spiritual formation, negotiation and/or mediation/arbitration. Then, as an organization (with every family system represented) participate in a large group, highly interactive, workshop(s) to identify the five areas of conflict that are negatively affecting the organization: communication, commitment, consensus, cooperation, or compassion. After that, we would develop a plan to address these areas of conflict and/or cultural incompetence. Then we would implement the plan, evaluate it, and loop back to refine the plan. The client would recognize and celebrate success after each step of being involved.